What I learned from Bill Barnet
Date posted
April 13, 2021
It's about the long game. Building trust, actively listening, and showing up.

Bill Barnet, former Mayor of Spartanburg, reminded us of the importance of these simple steps during Together SC's April Removing our Blinders call. (If you missed the call, here's Bill's introduction, and here's the recording. Please listen.)
For those who do not know, Removing our Blinders sessions are designed for white nonprofit and community leaders to facilitate a discussion about a book, video, article or personal experience that has impacted his or her understanding of racism and white privilege.
Bill made sure we were able to inform ourselves ahead of time by sharing a blog from Dr. Russell Booker, his friend and the Executive Director of the Spartanburg Academic Movement. Then, we were lucky enough to have Dr. Booker join us...speaking candidly of their relationship.
When asked what was the secret to their true friendship, they both simply said, 'Talk to one another, and listen to one another.'

Bill, who will be 80 years young next year, was the mayor of Spartanburg from 2002-2010.
He started our session by speaking of his homogenous upbringing that meant his first experience of diversity wasn't until he was 1st Lieutenant in the U.S. Army and then with the Adjutant General's Corps...well after grad school.
Bill generously shared his many lessons learned.
But what I took away was that his life's work is his constant and continued willingness to learn about individuals and communities that are different from his own.

When I moved back to Spartanburg nearly four years ago, Bill was one of the first local leaders to engage with me over coffee.
I remember having a very candid conversation with him about race in our community, and his willingness to dive in with me.
Bill and I live down the block from one another and at the time, our downtown was beginning to bloom…a very exciting time for businesses and residents alike.
And a stone's throw away, the Northside of town was rapidly developing, thanks in large part to Bill's vision, the guidance of the Northside Development Group, and work of the local neighborhood association…the Northside Voyageurs.

You see, for the past ten years Bill has been part of a team trying to re-envision a low wealth neighborhood with poor infrastructure, high crime and scant opportunity for upward mobility.
And by all accounts they have been succeeding…because trust was established first.
He gained trust during his two terms as our mayor (which I admittedly was not present for, but am surely benefiting from), and continued to do so well after his tenure.
In a town boasting a minority majority, with over 50% of the population made up of our communities of color, and nearly 25% of our overall community living in poverty, trust is where we must start.
And that trust has to be earned.
Bill noted, 'If we are going to make a difference we have to get close to the problem and get involved; you can't create impact sitting in a high tower.' And, this requires trust from all angles.
I want to thank Bill for inviting me in, for trusting me. He invited me into conversation, to engage with his team, his peers, his family and his vision. He invited me to listen and learn about our community in ways that allowed me to navigate my own relationships that have been critical to impactful work.
Back to his Removing Our Blinders. Bill closed the session by sharing that he always asks himself,
'"What is the value of what I am doing? Not the volume…the true VALUE."
We should all wake up and ask ourselves this question each morning.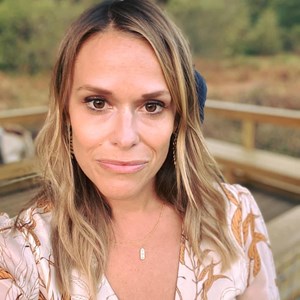 NOTE: Kathryn Harvey is founder of Neue South Collective, a Together SC Business Partner and currently directs Together SC's communications efforts.