SC's Nonprofit Sector Impact & Workforce Data
South Carolina Sector Impact Data
The impact of nonprofit 501(c)3 organizations on South Carolina's workforce is undeniable, as revealed by USC Upstate College of Business and Economics and Sam Cooper, PhD a comprehensive analysis of publicly available data, including IRS 990 forms, U.S. Census Bureau, Bureau of Labor Statistics, and other relevant sources.
Key findings from the data analysis for the year 2020 underscore the pivotal role of nonprofits:
Diverse Representation
501(c)3 organizations account for 4.8% of all business/economic establishments in South Carolina, emphasizing their wide-ranging impact across various sectors.
Employment Impact
Nonprofits employ a staggering 8.4% (171,642) of all nonfarm employees in South Carolina, reflecting their contribution to job creation and economic stability.
Wage Generation
These organizations paid a substantial sum of nearly $6.5 billion in wages, ensuring financial security for countless individuals and families.
Significant Industry Ranking
South Carolina's nonprofit sector ranks as the 5th largest industry sector based on the number of employees, underscoring its significance within the state's economy.
Mean Wage Growth
The mean wage for nonprofit employees in South Carolina experienced a noteworthy increase of 23% from 2015 to 2020, reaching $37,572, reflecting the sector's commitment to fair compensation.
Leading Sectors
Health-related organizations were the largest nonprofit sector in South Carolina, responsible for paying 60% of nonprofit wages, followed by education at 16%.
Regional Influence
The seven counties with populations exceeding 250,000 serve as homes to 59% of all South Carolina-based 501(c)3 organizations, employing 63% of nonprofit workers and paying 67% of wages.
Prominent Contributors
The largest 25 organizations that submitted IRS 990 forms in 2020 collectively employed a substantial 86,349 individuals.
2020 SC Nonprofit Sector Impact Employees and wages
National Nonprofit Sector Impact Data
Visit Nonprofitimpactmatters.org for National data on sector impact from the National Council of Nonprofits.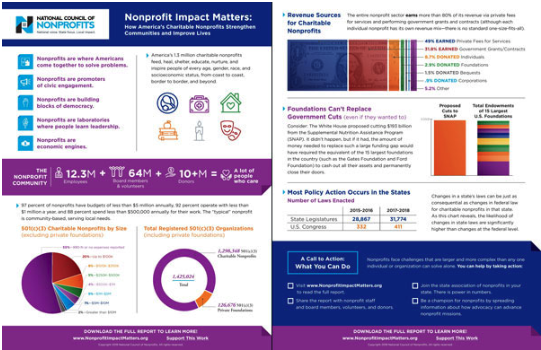 National Nonprofit Workforce Shortage Data
Charitable nonprofits employ more than 12 million people in the U.S. Those hardworking staff members are the driving force behind nonprofit missions. But workforce shortages continue, straining nonprofits' ability to serve communities, according to our recently released report, "2023 Nonprofit Workforce Survey Results."
For more information on National Nonprofit Workforce Shortage data visit the National Council of Nonprofits.
Fortunately, while survey respondents identified multiple serious challenges they face and related consequences to the public, they also shared numerous tactics they've deployed in their organizations as practical solutions.
For example, when reading through the survey responses, we were heartened to learn that nearly 40% of respondents identified having Diversity, Equity, and Inclusion training and strategies in place as practical solutions helping them hire and retain staff. This fact demonstrates that DEI programs offer substantive value.


Worker shortages are among the external forces buffeting nonprofit leaders and forcing them to consider changing aspects of their operations to remain effective and sustainable. But organizational change is hard, and often fails. Our second featured article this month, by Steve Zimmerman of Spectrum Nonprofit Services, shares three key steps leaders can take to increase the likelihood of success. Finally, given the decline in charitable giving and the current hiring challenges, readers will appreciate our article on setting appropriate expectations for how much new development directors can be expected to raise.