For Good Connections
Our Bi-Weekly Newsletter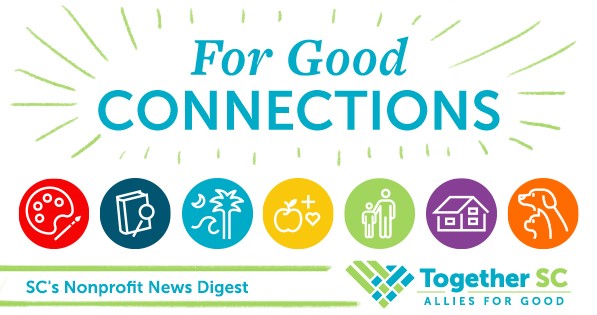 For Good Connections is a biweekly enewsletter produced and distributed every other Monday by Together SC.
Features of For Good Connections include::
Shout outs to Allies for Good who are leading
Career Center - featured jobs
Federal and State Advocacy Alerts
Funding Opportunities
Business Partner Shoutouts
Latest State and National Nonprofit News
Upcoming SC Learning Opportunities
If you aren't receiving For Good Connections in your inbox, all you need to do is create your personal account. When you enter your email address, our system will search to see if we already have you in our records. If so, you'll be prompted to reset your password and log in. If not, you may continue to the next page!
Make sure to enter your organization's name slowly. As you type, the system will check against all of our records and may find your organization! If you see your organization's name displayed, make sure to select it!
If you are not affiliated with a nonprofit organization or are not ready to join as a member, that's ok, you can still get For Good Connections! Just Select "Newsletter Recipient" as your member type and continue! Once you're done, you'll start receiving the newsletter!