Peer Networks
What is a Peer Network?
Together SC's Peer Networks are designed to address the individual needs and build the capacity of the staff within our member organizations.
These groups are organized around specific topic areas and offer members access to timely professional development opportunities and an expanded network of professional colleagues from across South Carolina.
Current Peer Networks:
Join our Peer Network Listserv Group limited to and for Executive Directors and CEOs. If you are an ED/CEO, simply log in and join the list. If you have difficulty accessing the sign-up form, contact Together SC Staff.
This peer network is for those engaged in public policy issues, active in advocating/lobbying at the state, federal, and local levels.
This peer network engages those working or volunteering in the nonprofit sector who are Black, of African descent or of color.
A membership category and a peer network for entrepreneurs and firms who provide services primarily to nonprofit organizations.
For the staff "making the asks", writing the grants, and finding the resources to keep the mission going.
This peer network is for those interested in making equity a priority in their organizations.
Marketing & Communications Peer Network
This peer network is launching in January of 2024 and will focus on nonprofit communications efforts and marketing.
For the staff "in the weeds", the detail-oriented folks implementing the visionaries' visions and keeping the machine well-oiled.
Building upon the work of the former SC Assoc. for Volunteer Administration (SCAVA), this peer network engages nonprofit professionals responsible for recruiting and managing volunteers.
How Do I Join a Peer Network?
Joining a Peer Network is easy! Just log in, go to your Member Compasstm, and click "Profile".
Under "Profile Info", look for the "Peer Networks" field, click it, and select any and ALL you wish to join. Then click "Save". You'll be added to the mailing list for that group! That's it!
Not yet a member, or don't have a profile? Get started here!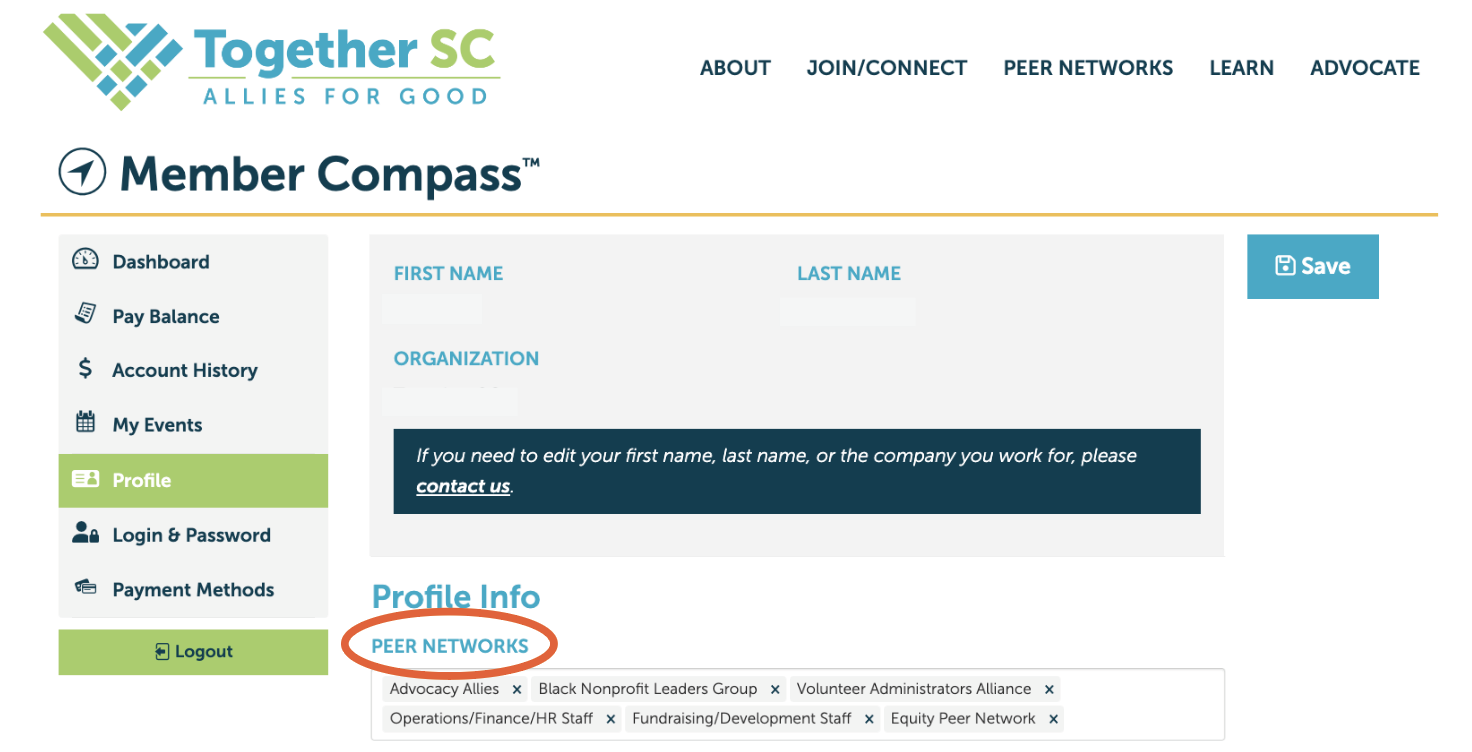 How Do I Join a Peer Network Listserv Group?
Join the community of your Together SC Peer Network! As a member of a peer network you can join one or more Peer Network Listserv Groups, a virtual community that allows you to share questions, resources and stay closely connected to your peers. These Peer Network Listserv Groups are moderated by Together SC staff and the Peer Network Leadership Teams.
Peer Network Leadership Team