Advocacy Allies
Peer Networking to Amplify Your Voice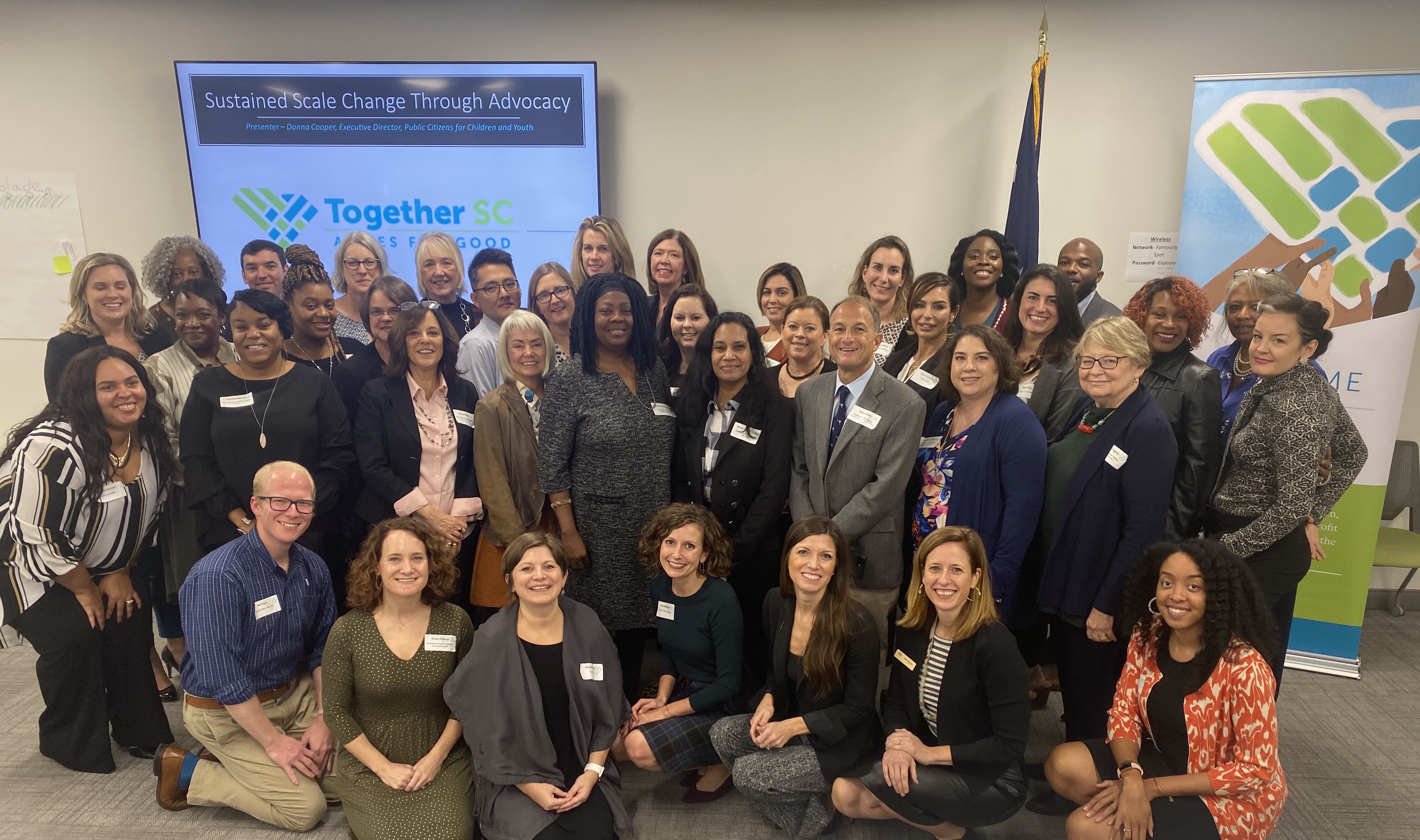 Together SC seeks to harness the collective power of its member organizations who are advancing the greater good through public policy and advocacy efforts by establishing an Advocacy Allies network to facilitate peer to peer engagement.
Purpose
To help Advocacy Allies participants learn together and address the unique challenges and operating concerns that advocacy organizations face.
To help advance state legislators' understanding of the nonprofit sector and issues of importance.
To engage philanthropic partners in collaborative advocacy efforts.
FY20 Objectives
Organize November (it as fantastic!) and June gatherings for Advocacy Allies to learn together and address legislative and policy issues
Host periodic zoom calls for Advocacy Allies to provide peer to peer sharing of knowledge and expertise
Begin Inventorying and sharing tools and resources
Engage leaders of nonprofit subsector advocacy efforts
Provide input into and offer support for Together SC's public policy priorities
Offer Advocacy Allies opportunities to build relations with state elected officials. Research engaging with SC Legislative Caucuses.
Upcoming Events
Jan 10, 2020 Zoom Call – Review bills pre-filed for the session / priority issues / Advocacy days at the Capital / Census resourcs / and Power Mapping How-To.
June 25, 2020 Zoom Call
Nov / Dec 2020 Gathering - Recognize legislative champions / Welcome newly elected legislators
Participation and Investment
The initial priority will be to engage Together SC's nonprofit and philanthropic member organizations who undertake significant state level public policy and advocacy work, (i.e., organizations that take the H election on their IRS form 990).
Outreach will focus on senior level professional staff responsible for state level policy work. Questions will be used to help participants determine fit. (use to begin to creating inventory)
There will be no charge to belong in year one.
Leadership Structure
Each year Together SC will invite a diverse team of experienced advocacy professionals to help lead the Advocacy Allies. They will be responsible for program planning and providing overall direction for the Advocacy Allies.
They may be invited to represent the sector by attending key advocacy events together with Together SC as the opportunity arises.
They will be asked to participate in periodic planning calls and an annual planning meeting. Together SC will aim to fully staff Advocacy Allies efforts..
Advocacy Allies Leadership Team