Congratulations to the 2023 Governor's Volunteer Awards Winners!
For Immediate Release
Contact: Mary Dell Hayes
Email: marydell@togethersc.org
Cell: 803.730.7785
Columbia, March 13, 2023- Together SC's Volunteer Admin Alliance, the SC Commission on National and Community Service, the SC Grantmakers Network, Americorps South Carolina and the SC Governor's Office are pleased to announce the winners of the 2023 Governor's Volunteer Awards! The Awards Ceremony was held at the Columbia Museum of Art on Thursday, March 8 with nonprofit leaders and legislators from across the state joining honorary co-host Senator Katrina Shealy to celebrate the dedicated people who make South Carolina a better place to live and work.
The Governor's Volunteer Awards are a time to share how South Carolinians serve our state without any expectation of recognition or compensation. These considerate people selflessly use the tools and time available to them to address the needs they recognize in their communities. These volunteers are the embodiment of our state motto, Dum Spiro Spero – While I breathe, I hope. For more than 30 years, these awards recognize the volunteers who go above and beyond to breathe hope into their communities, inspiring all of us to join them.
Please join us in celebrating this year's winners: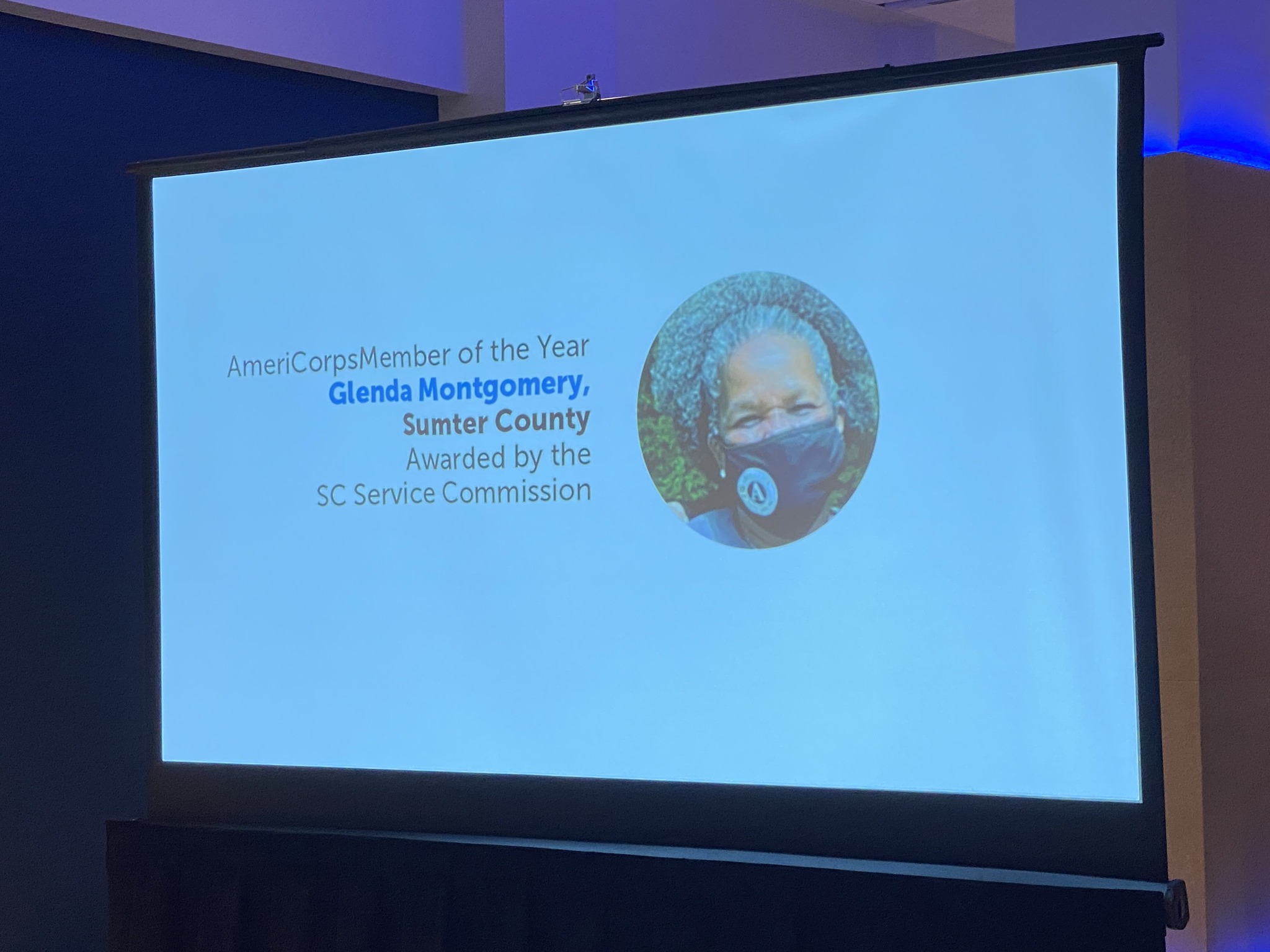 Americorps Member of the Year
Glenda Montgomery, United Way of Sumter, Clarendon, and Lee Counties
Glenda Montgomery joined the United Way of Sumter, Clarendon and Lee's Reading Success AmeriCorps team in the 2018 program year and immediately made a positive impact on students. Glenda completed her 4th term of service and selflessly served with a passion and dedication that is indicative of the AmeriCorps philosophy "a better you" "a greater us". Glenda continues to go above and beyond to encourage students, fellow AmeriCorps Members, and those in the community to achieve greatness. Glenda also devotes a great deal of time at the local Our Brother's Keeper Society, where she helps distribute food and clothes on a weekly basis.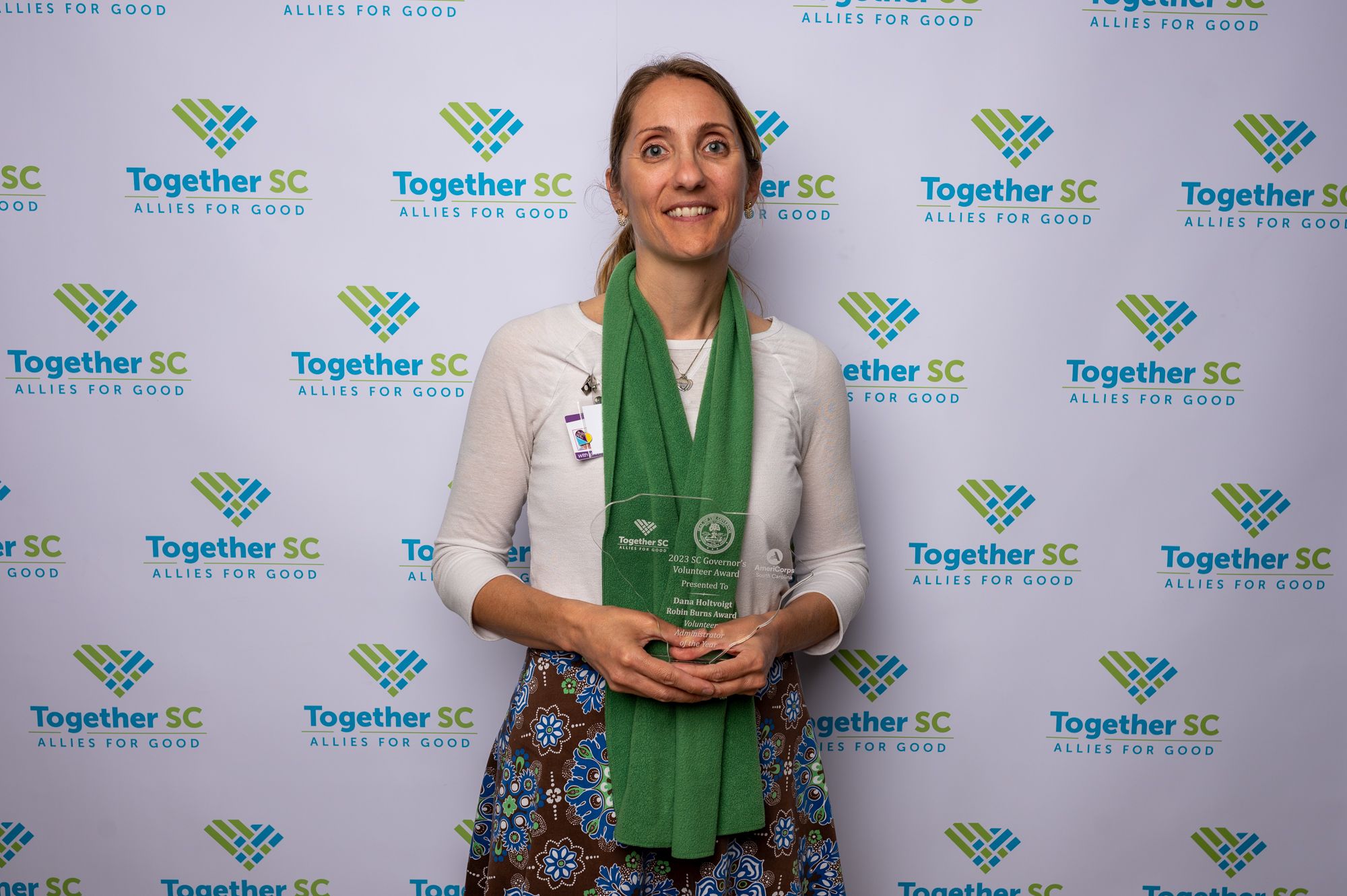 Robin Burns Award for Volunteer Administration
Winner: Dana Holtvoigt, Director of Volunteer Services, Agape Care Group
Dana Holtvoigt has served as a professional volunteer administrator for almost 20 years. Dana is committed not just to promoting community service and helping people serve their communities, but to mentoring and teaching those who recruit and lead volunteers professionally. Dana pursued a bachelor's degree in social work because she wanted to help people and narrowed her focus completing a M.Ed. in 2017, focusing on Learning Design. Dana served as president of the state association for volunteer administration (SCAVA) from 2010-2014 and as board member/president of the local association of volunteer administration (LASCAVA) from 2007-2013. Dana is the Director of Volunteer Services with Agape Care Group- a leading hospice, palliative, and pediatric comfort care provider - serving SC and GA.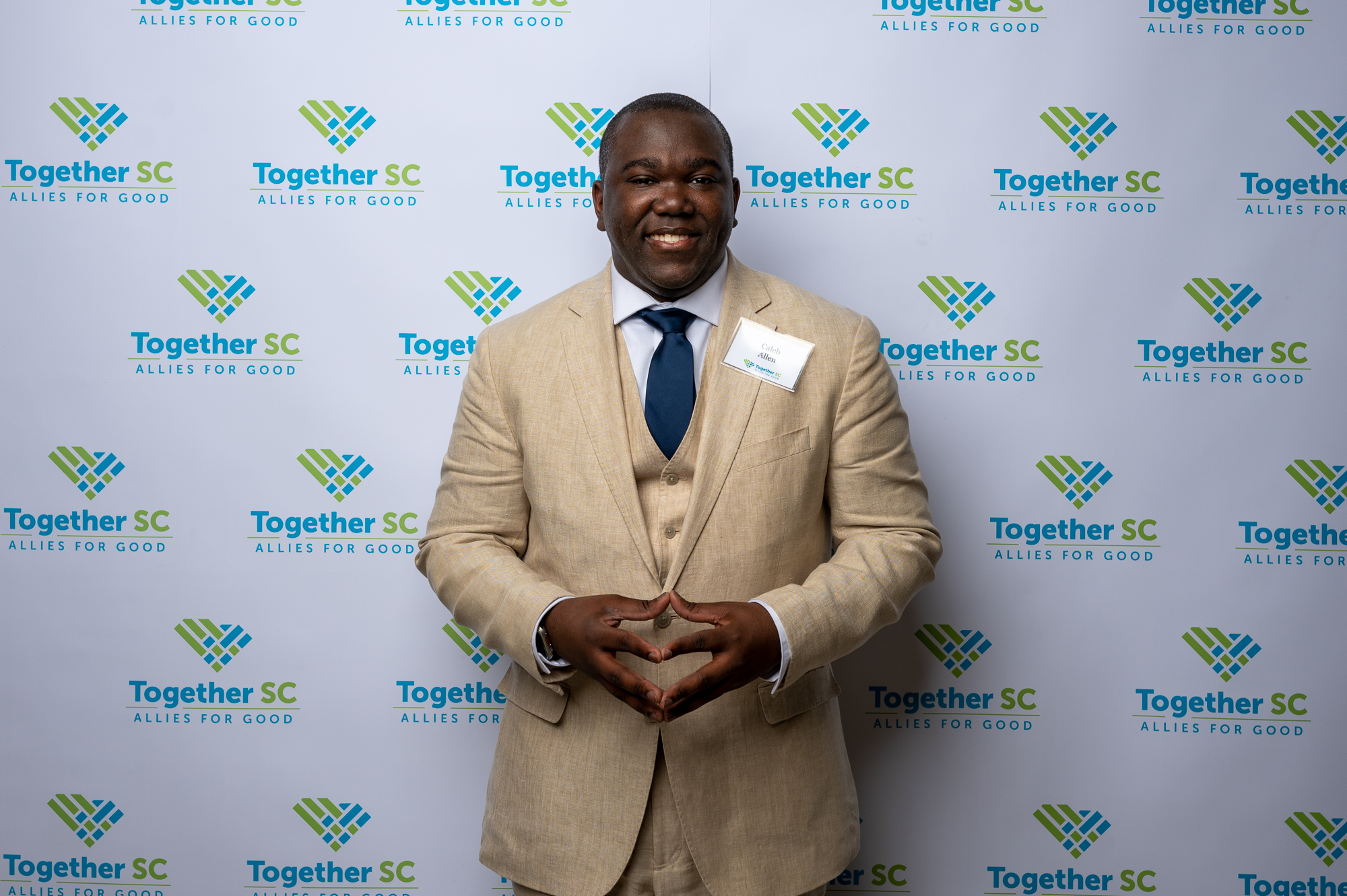 Community Leader Award
Caleb Allen, TD Synnex
Nominated by Brandy Singleton, PlaySafeUSA
Caleb is a ROCKSTAR in the Anderson community. He has an amazing work ethic that flows over from his professional life and into his community involvement. His contributions to the community include serving on the Anderson Area Sister Cities Board of Directors, Anderson Rising (Anderson Area Chamber of Commerce), Anderson University Alumni Board, Board of Visitors (Tri-County Technical College), UWAC- African American Leadership Society, Electric City Rotary Club, Palmetto Boys State (sponsored by the American Legion), and Anderson Area Society of Human Resource Management. This is an outstanding list of contributions for a young leader in our community. At just 26 this is an amazing accomplishment, one that many cannot tout until many decades into their career. This demonstrates Caleb's willingness to step up in our community and take on a leadership role.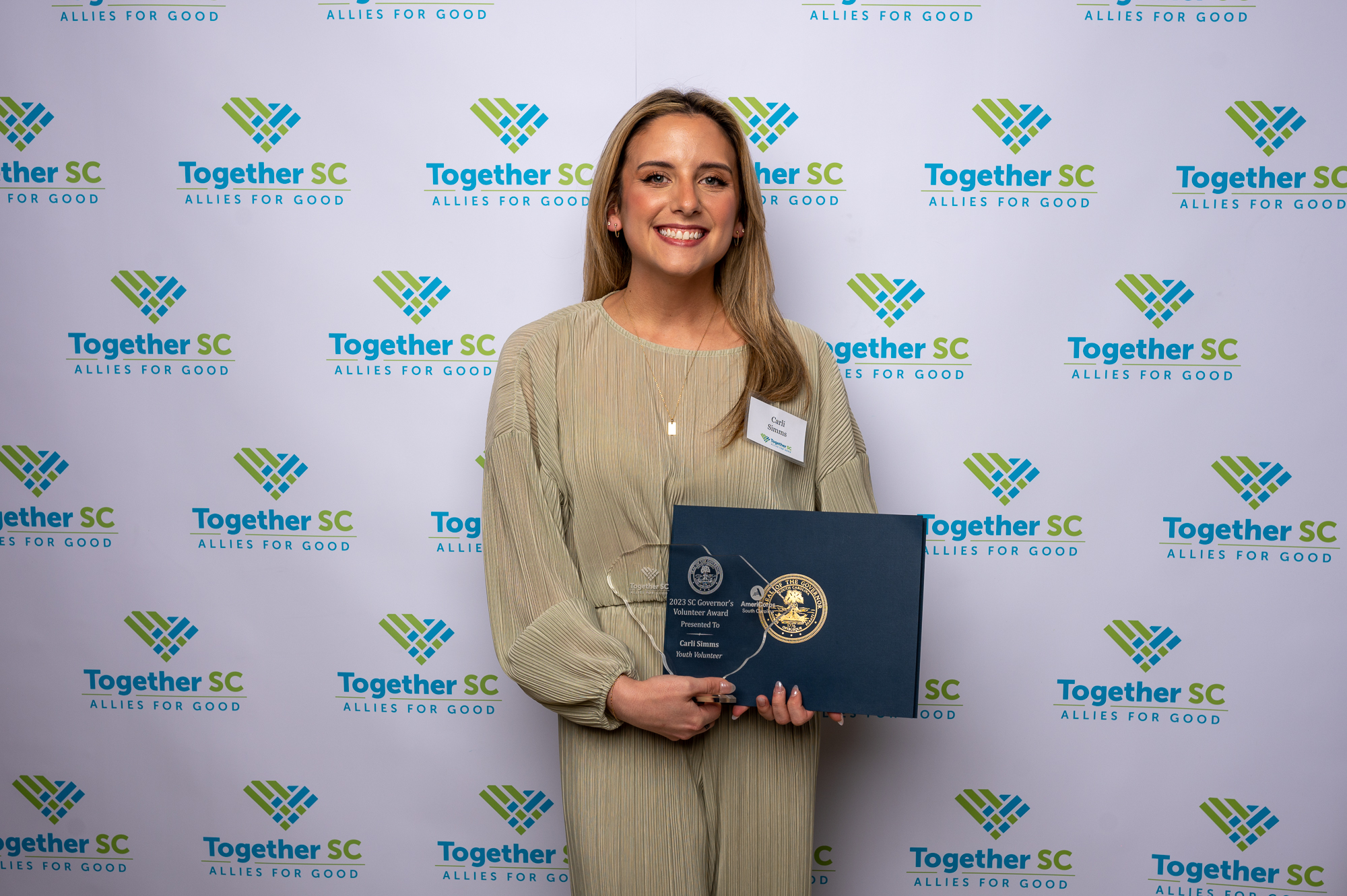 Youth Volunteer
Carli Simms, Richland County
Nominated by Rachel Kaplan, Brain Injury Association of SC
Carli Simms has been volunteering with the Brain Injury Association of South Carolina, specifically the young adult support and advocacy group, BrainStorm, since November 2021. BrainStorm is a peer support group for young adults ages 16-29 who have experienced brain injury. This means that young adults themselves who have a Traumatic Brain Injury (TBI) or concussion (mild TBI), as well as young adults who have a parent, family member, sibling, friend, or community member who has experienced a brain injury. Carli has volunteered her time to assist with the planning of monthly peer support meetings, assists with facilitation of the meetings, and has sat on presentation panels for monthly BrainStorm groups to provide an essential perspective to the group. Carli originally reached out to Brain Injury Association of SC two months after her boyfriend completed suicide due to complications from multiple head injuries during his high school football career. She was looking for a sense of community and opportunity to find purpose and advocacy through her personal tragedy and experience. Carli's insightful, genuine, and empathetic approach to peer support and connecting with others who have experienced brain injury in their lives has been a needed asset to the group and the work we do. Carli has also participated in our annual Brain Injury Awareness events at the statehouse to spread education and awareness about brain injury.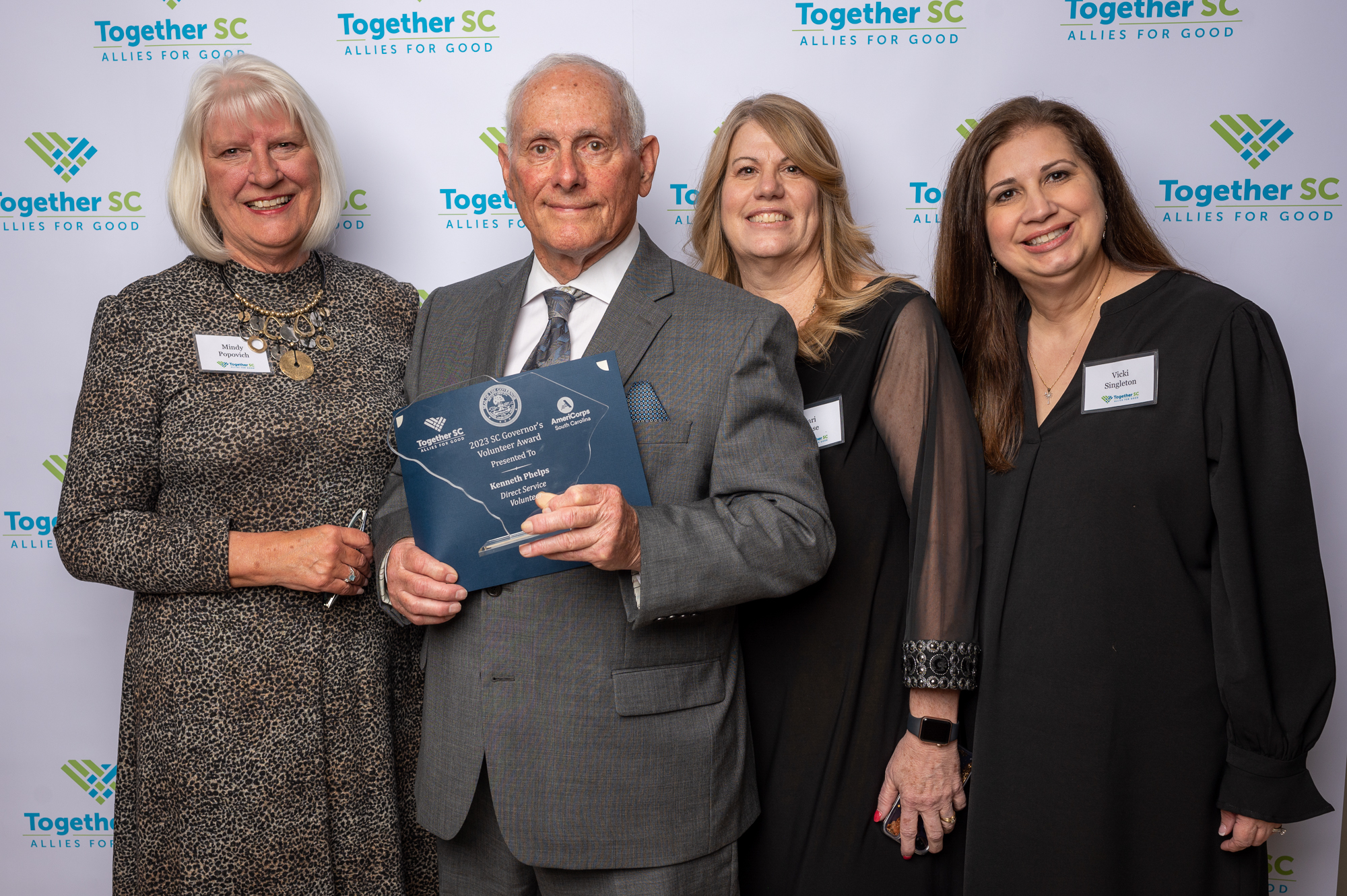 Direct Service
Kenneth Phelps
Nominated by Kari Cruise, United Way of Sumter, Lee, and Clarendon Counties
Ken Phelps has helped repair homes for United Way of Sumter, Clarendon and Lee Counties since the floods of 2015. For the past several years he has focused his volunteer efforts in Clarendon County coordinating volunteer groups to build wheelchair ramps for those in need as well as performing general home repairs for the elderly and disadvantaged. Ken wears many volunteer hats. If there is a need in the community, he is one of the first to roll up his sleeves to get the job done. Ken never judges a request for help. He gives of himself daily in many ways from transporting patients to doctor's appointments to collecting mail and carrying out trash for neighbors. He regularly visits and ministers to nursing homes and hospitals. Ken also works with the Salkehatchie Summer Program in Clarendon County. He selects and coordinates work sites, arranges housing and meals for the volunteer crews and participates in making the necessary home repairs. Several times a month Ken picks up food donations from the Harvest Hope Food Bank in Florence delivering it to the United Ministries Food Pantry. He also assists with the mobile food distribution in the West Summerton area. Ken is also a Master Gardener and is president of the Clarendon Master Gardeners. His kind and generous spirit has allowed him to share his horticulture skills with a rural church and anyone who has requested a helping hand. Ken works closely with the Manning High FFA and Horticulture Programs at the junior and high school. He helps to maintain the Jr. High greenhouse and provides plants and many hours of labor that assures a successful Master Gardener plant sale.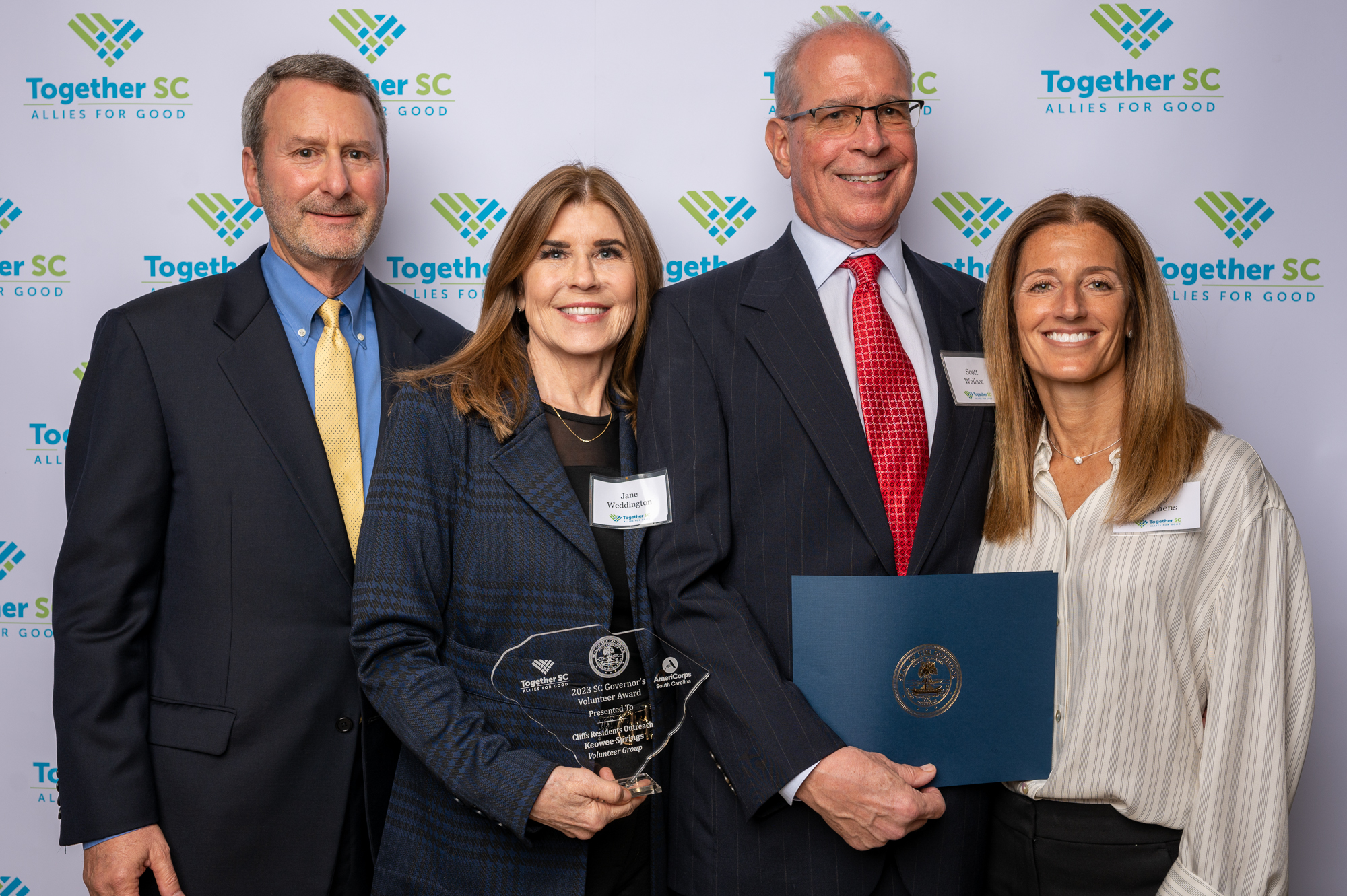 Group or Family Service
Cliffs Residence Outreach
Nominated by Ryan Smith, YMCA of Easley, Pickens, and Powdersville
The Keowee Springs chapter of the Cliff's Residence Outreach(CRO) has been an amazing group of volunteers who are instrumental in helping the YMCA Mentor program rebuild presence in the local elementary, middle and high school. This program recruits and trains volunteers and then works with the schools to match those volunteers with at-risk students who could benefit from the weekly one-on-one attention of a positive, caring adult. In November of 2021, five of our mentors were residences of Keowee Springs and had been recruited by the CRO as part of their mentoring initiative. Thanks to a rejuvenated energy from the CRO in January of 2022, there are now 32 active mentors serving in the three schools in close proximity to the Cliffs at Keowee Springs community. In addition to word of mouth recruiting, members of the CRO have organized two separate recruiting events to bring more volunteers into the program. Due to this impressive increase in volunteers, they have recorded 320 hours of volunteer service just in face-to-face time with mentees in the schools. The CRO also recruits and organizes volunteer tutoring and reading programs with the schools.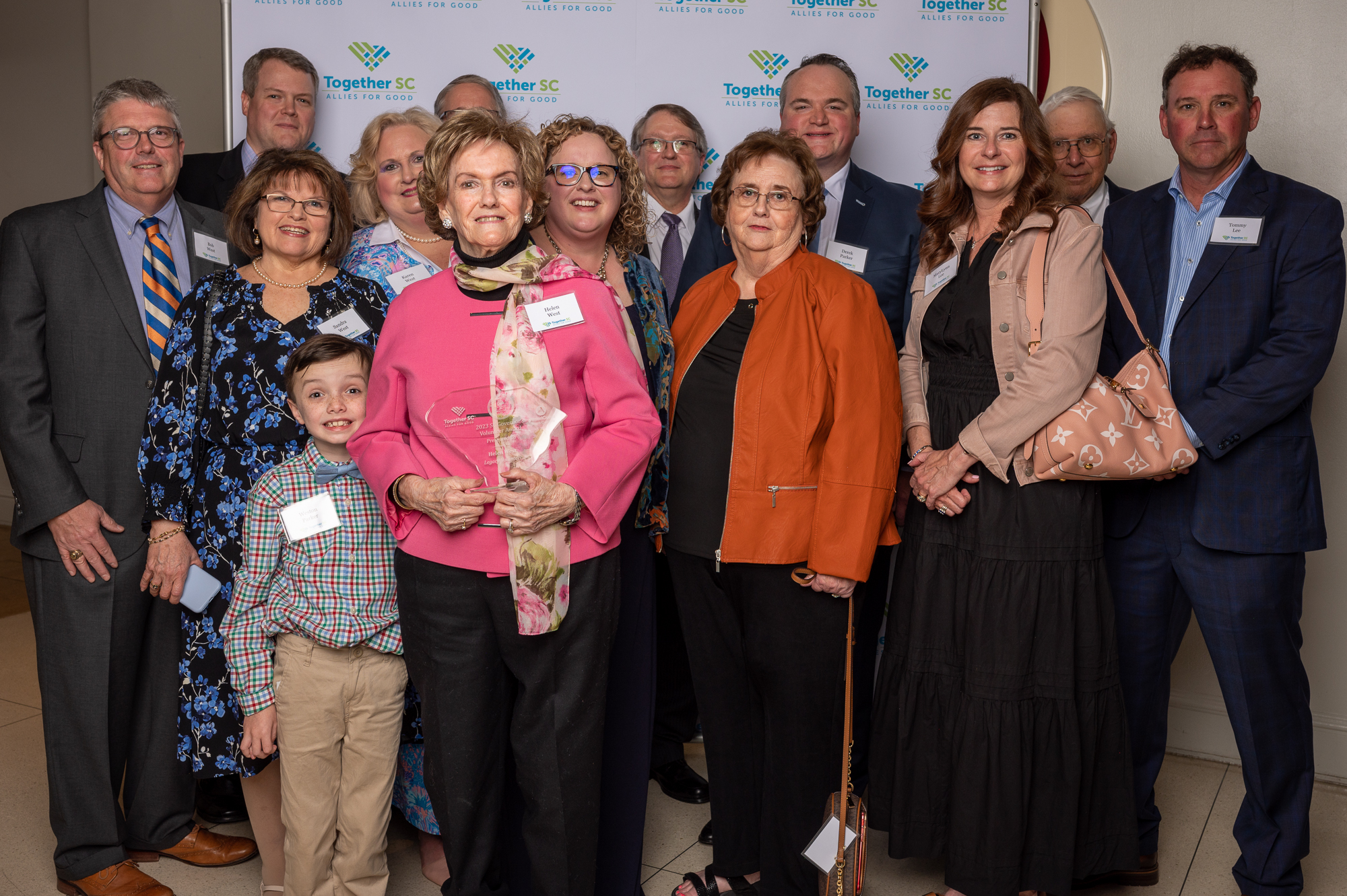 Legacy Volunteer
Helen West
Nominated by Jill Dugaw, Spartanburg Regional Health Systems
Helen is certainly a hard act to follow. She began her service at Spartanburg Medical Center (then Spartanburg General) as a ""Grey Lady"" - the Red Cross Volunteers that served patients and staff in hospitals. What is most amazing is her start date - Helen began volunteering on May 1, 1967! Until the Covid pandemic required a suspension of volunteer services, Helen served continuously during all that time. After visitation restrictions were lifted at the hospital, Helen was one of the first volunteers to return to the hospital after 434 days. Due to ongoing infection concerns, Helen made the difficult decision to step down from her volunteer role after more than 55 years of service and 9,140 hours (her hours are likely greater than that, but there are missing records from early in her volunteer career).
---
About the SC Commission on National and Community Service:
The South Carolina Commission on National and Community Service was established in 1993 to identify critical needs of our state and award CNCS funded grants to programs to address key challenges. Proposals for AmeriCorps Programs are created by local entities to address issues unique to their community. This bottom-up approach ensures that federal funding is allocated to address South Carolina's biggest challenges.
In December of 2007, by Executive Order of Governor Mark Sanford, the United Way Association of South Carolina was appointed as the governing authority of the Commission. The United Way Association of South Carolina was a natural fit to serve as the Commission due to aligned goals to leverage volunteerism to improve the quality of life for South Carolina residents. The Commission is South Carolina's lead agency on volunteerism and national service.
---
About Together SC:
Run by nonprofit leaders and their allies, Together SC serves as the unifying voice for our state's nonprofit and philanthropic organizations. Through its member organizations, the organization aims to support and empower volunteer and professional leaders dedicated to community service, leadership and caring.
Together SC began operating in 1997 with 67 charter member organizations. Today, its statewide network includes 800+ organizations, large and small, whose diverse leaders believe in Together SC's vision for creating a world in which SC's nonprofits and their allies are integral players in successfully building vibrant, equitable communities.
For information on Together SC's 2023 Comp Benefits Survey click here Learn more about Together SC: www.togethersc.org.
Facebook: https://www.facebook.com/TogetherSC
Twitter: https://twitter.com/TogetherSC
Instagram: https://www.instagram.com/togethersc/