SC Land Trust Network Annual Retreat
---
Wednesday, January 26, 2022
at
12:00 PM (EST)
to Thursday, January 27, 2022 at 11:00 AM (EST)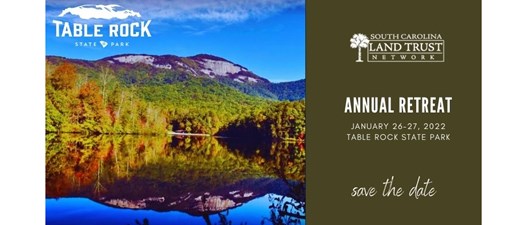 Meals: January 26: Lunch, Happy Hour, Dinner, and January 27: Hot Breakfast included 
Cost: $80 (meeting and meals); $100 (meeting, meals, cabin accommodations - limited availability)
Enjoy fellowship, networking, and education at one of the state's most popular state parks in this (non-COVID era) annual tradition. 
Accomodations: Table Rock State Park is holding all cabins for LTN members, which will allow 40 members to stay on site.  You may select a cabin for two people, a cabin for three people, or a cabin for 5 people.  Occupancy is determined by the number of beds, including sofa-sleeper. Indicate the names of the individual(s) with whom you plan to room.  A cabin will be reserved when all individuals in your party have registered. Space is available on a first-come, first-served basis.  
If you would prefer to camp, please arrange your reservations through the park. You will be responsible for the cost of your campsite. 
https://reserve.southcarolinaparks.com/table-rock/camping
Additional overnight accommodations are available at nearby inns and VRBO/Air BNB properties. 
Attendees (40)
Amanda Mathis
Executive Director
Spartanburg Area Conservancy (SPACE)
Amber Larck
South Carolina Conservation Bank
Chris Starker
Land Conservation Manager
Upstate Forever
David Ray
Chief Conservation Officer
Lowcountry Land Trust
Jen Howard
Executive Director
SC Land Trust Network
John Girault
Executive Director
Edisto Island Open Land Trust
Lauren Muller
Land Stewardship Associate
Upstate Forever
Marjorie Cleary
Government Relations Associate
The Nature Conservancy
Mary Crockett
Land Protection Director
Congaree Land Trust
Raleigh West
Executive Director
SC Conservation Bank
Richard Carr
Land Conservation Specialist
Upstate Forever
Samantha Alcozer
Conservation Coordinator
The Nature Conservancy
Scott Park
Director of Land Conservation
Upstate Forever
Stuart White
Executive Director
Congaree Land Trust
26 Other Registered Attendees
For More Information: