From Starting Up to Leveling Up – Starting or Growing A Consultancy
Consultant Collaborative Virtual Call for Members
---
Category: Consultant Collaborative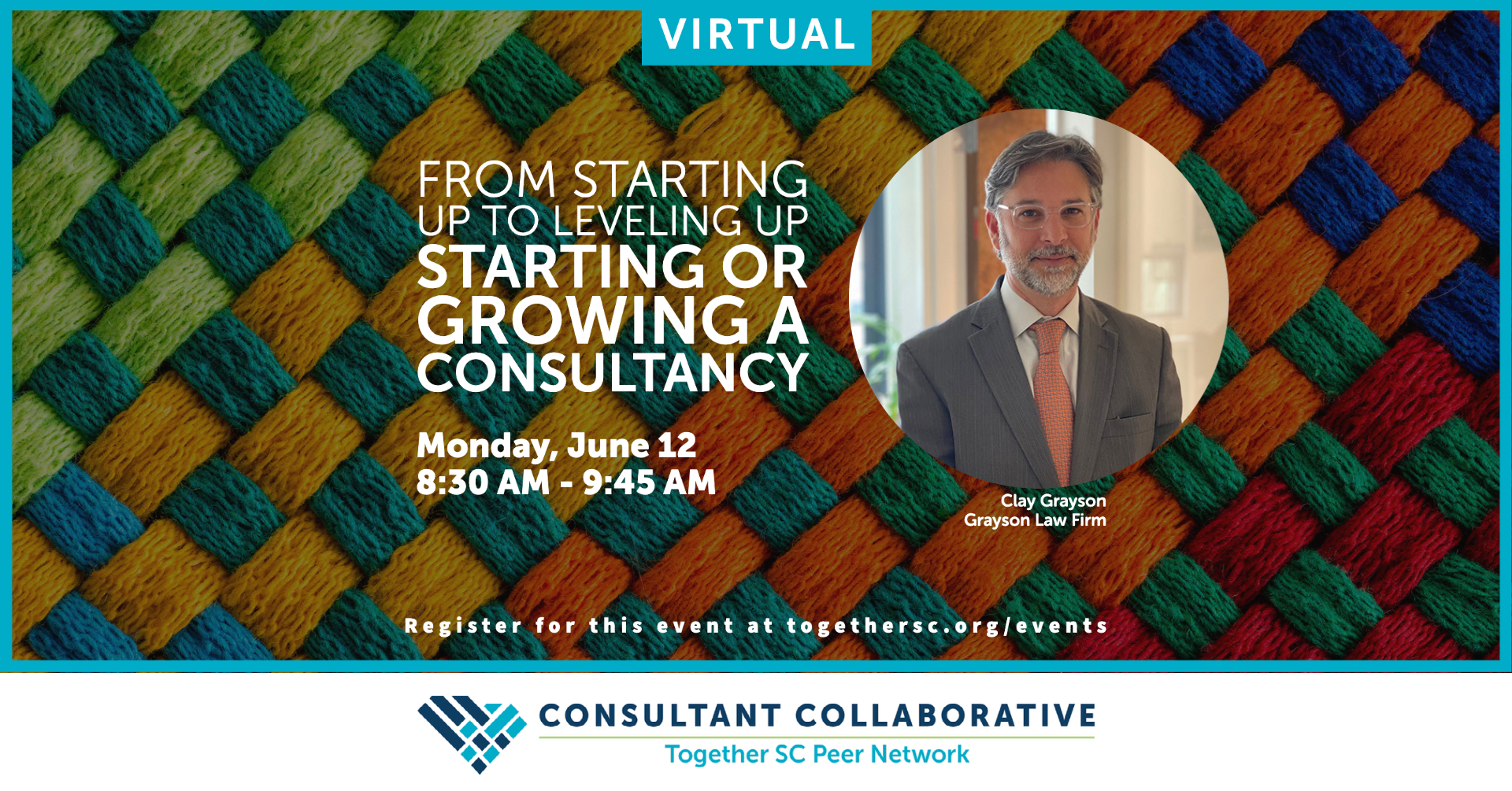 Drawing from his prior career as a Product Manager at Merck Pharmaceuticals, Clay Grayson, of Grayson Law Firm and a member of the Consultant Collaborative Leadership Team, will share his story about the launch of his law firm, which is dedicated exclusively to provide services to nonprofit organizations.
His program will challenge you to refine your business strategies through Market Analysis, Business Cost Analysis, and Effective Pricing of your services.
The goal of the presentation is to provide you confidence-building thoughts to either start your business or to establish a new business line within your consultancy practice.
Ultimately, if you dream it… and plan it… your consulting dreams can be a reality.
Attendees (24)
Kris Alderson
Relationship Manager
JP Morgan Chase
Forrest Alton
President
1000 Feathers
Cayci Banks
Vice President of Strategy & Communications
1000 Feathers
Colleen Bozard
President
ccbozard consulting
Claudia Brooks
Consultant
Claudia B. Brooks
Catie Buckingham
Senior Consultant
Openfields
Bates Childress
Founder
Donorcentric Development
Andrea Clements
HR Consultant
Harper Human Resources Consulting
Eleanor Dunlap
Executive Organizational and Talent Consultant
Find Great People International
Kim Fabian
Chief Experience Officer
Elevatr
Cassandra Jackson
Founder/Principal Strategist
2911 Creative LLC
Patrick Jinks
Certified Leadership and Strategy Coach
The Jinks Perspective
Rachel Kaplan
Independent Disabilty Consultant and Project Manager
Kintsugi Consulting, LLC
Carmen Landy
Founder & CEO
Landy Dynamic Solutions
Madeleine McGee
President/CEO
Together SC
Ian Mutton
Chief Insight Officer
Elevatr
Ericka Plater
Consultant
GroundWell Collective
Debbie Romano
Senior Philanthropic Specialist
Wells Fargo
Laurie Rovin
Interim ED
Compass of Carolina
Julia Sellers
CEO
Make GVL Greener
Lindsey Vance
Principal and Lead Consultant
Mpowrd Analytics
Melissa Weathers
Director of Operations and Marketing
1000 Feathers
Brad Zaba
President
Access Communications Group, Inc.
Kathryn Zenger
Lead Consultant
Zenger Strategies LLC
For More Information: