Partnership to Conduct Nonprofit Benefits Research
Date posted
November 2, 2023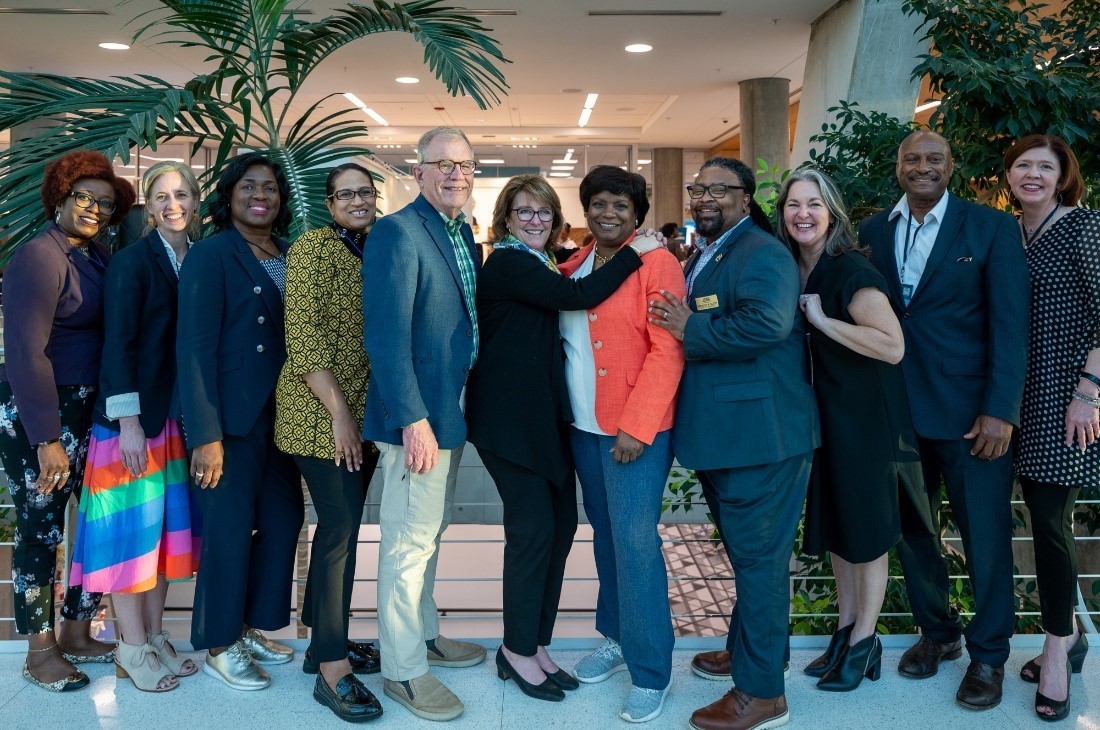 Spartanburg's Paige Stephenson's Leadership Impact is Felt Statewide as Together SC and Employers Network Announce New Partnership to Conduct Nonprofit Compensation and Benefits Research.
"Knowing how helpful Employers Network's services have been to our state's for-profit businesses, I saw a real opportunity for them to work with Together SC to serve our state's nonprofit sector." said Paige Stephenson, CEO United Way Piedmont
"This innovative collaboration will empower nonprofit leaders to have more up-to-date data on compensation and benefits. South Carolina's nonprofit and philanthropic organizations need to know what constitutes competitive wages and benefits to attract and retain the most talented individuals." Said Rita Revels, President & CEO, Employers Network
Stephenson, is entering her second term as board chair at Together SC. Her dynamic leadership reflects the alignment of United Way's mission with Together SC's, specifically in nonprofit workforce development, compensation studies, and advocacy. With a steadfast focus on driving positive change and centering our communities, Stephenson's reappointment marks an exciting phase for both organizations.
Together SC, the leading statewide association for nonprofit organizations, is excited to welcome three new board members to its esteemed ranks.
Dawn Down, Chief Operating Officer of Homes of Hope of Greenville;
"As COO at Homes of Hope in Greenville, I've spent 15 years working in the nonprofit sector and knowing the good we can do. I also experienced that good firsthand when, as a single mother with three young boys, I walked through poverty and homelessness." Dawn is dedicated to supporting the next generation of leaders with lived experiences that bring stronger leadership to the nonprofit sector. Together SC's compensation study, conducted in November '23, will support this effort, one of the many goals our board has this year.
Dawn joined by Andrea Tucker, Chief Financial Officer of Children's Trust of SC located in Columbia; and Stig Rasmussen, Compliance Manager at Fact Forward also headquartered in Columbia, bring fresh perspectives and expertise that will contribute to strategic direction and growth in line with Together SC's mission to educate, connect, and advocate for South Carolina nonprofits.
Together SC board will be instrumental in fostering a stronger nonprofit community by:
BoardStrong - This fall Together SC brings BoardStrong, is a national, online, searchable database that helps match interested community-minded individuals with nonprofit organizations hoping to utilize their talent.

United Way of the Piedmont and Together SC remain committed to fostering collaboration, driving change, and uplifting the nonprofit sector's impact on communities across the state.


******************************************************************************
Together SC's board also includes
Nate Barber, CEO of SC Community Loan Fund in Charleston
Mac Bennett, Nonprofit Sector Consultant, Beam & Hinge in Columbia
Nicole Echols, executive director of the Pee Dee Branch of Harvest Hope Food Bank in Florence
Shawn Edwards, CEO of Solutions by Shawn Edwards
Monroe Free, president & CEO, Habitat for Humanity of Greenville County
Erika Kirby, executive director of BlueCross BlueShield of South Carolina Foundation in Columbia
Amanda Lawrence, Sr. Director for Innovation, Partnership Excellence of StriveTogether of SC
Spencer Scott, executive director of Florence County First Steps
Tamela Spann, vice president of Strategic Initiatives for Hollingsworth Funds, located in Greenville
Paige Stephenson, president and CEO of United Way of the Piedmont, located in Spartanburg
JoAnn Turnquist, president and CEO of Central Carolina Community Foundation in Columbia
Ann Warner, CEO of Women's Rights & Empowerment Network (WREN) headquartered in Columbia
Sherrie Snipes-Williams, CEO, Charleston-Promise Neighborhood in Charleston
******************************************************************************
Run by nonprofit leaders and their allies, for nonprofit leaders, Together SC serves as the unifying voice for our state's nonprofit and philanthropic organizations. And, through its member organizations, aims to support and empower volunteer and professional leaders dedicated to community service, leadership and caring.
Together SC, known as SC Association of Nonprofit Organizations (SCANPO) for its first 20 years, began operating in 1997 with 67 charter member organizations. Today, its statewide network includes 800+ large and s, large and small, whose diverse leaders believe in Together SC's vision for creating a world in which SC's nonprofits and their allies are integral players in successfully building vibrant, equitable communities.
Instagram: instagram.com/TogetherSC
LinkedIn: linkedin.com/company/Together-SC