Back to Products & Services
E3 Foundation Fund
Collaborative Projects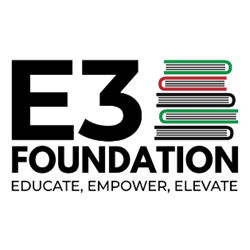 Thank you for considering a donation to the E3 Foundation.
E3 (Educate, Empower, and Elevate) is working to co-create a vision for K-12 education in Charleston, SC for students of color through mobilizing the community and supporting the voice, energy, and ideas of families, students, and educators.   
We envision a Charleston where every student of color has access to a high-quality school that teaches a culturally competent, relevant curriculum. These schools are led by an increasing number of teachers and leaders that are both effective educators and reflect the demographics of their students. And parents and community members have come together around a shared vision for quality schools oriented around values of racial justice and education equity. 
Our current fundraising campaign is focused on the core of our regional talent strategy; an innovative leadership fellowship to educate, equip, and connect high-capacity African-American and Latinx leaders from across the landscape of education and youth-serving organizations to accelerate their trajectories and bring new ideas, perspectives, and solutions to the challenges facing the city's youth and their communities.
Learn More about the E3 Foundation here - TheE3Group.com
---