Back to Products & Services
25th Anniversary Reception Host Sponsorship
Nonprofit Summit | Nonprofit Summit Sponsorships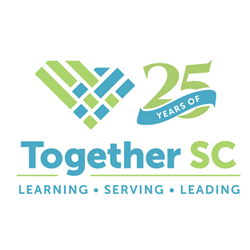 In March, when our Together SC family convenes for the first time in two years, we will also mark 25 years of learning, serving, and leading together. Together SC's members' individual and collective accomplishments since 1997 are numerous and worthy of a celebration.
Most of Together SC's 67 Charter Member organizations are still engaged in the nonprofit work in South Carolina and involved in Together SC, and at the upcoming Celebrate Together SC Reception. It is time to celebrate our commitment, dedication, and hard work over the past 25 years, together.
Our celebration will be held at the Chapman Cultural Center beginning at 5:30 p.m. on Thursday, March 10, 2022, during SC's Nonprofit Summit.
Become a Host
In celebration of our 25th Anniversary, we are inviting our friends and partners to help us host this special celebration by making a $250 host donation. All hosts will receive the following benefits:
Two invitations to the Celebrate Together SC Reception.

Name recognition with a link on the reception webpage.

Name recognition at the event on signage.
---