Talking Together with Nonprofit Leaders: SC CARES Act Live Q&A
---
Wednesday, October 28, 2020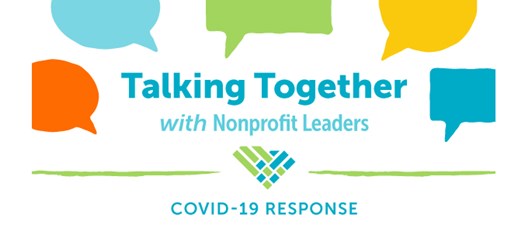 $25 million is currently available through the SC CARES Nonprofit Relief Grant Program – but the deadline to apply is this Sunday, November 1!
If you are looking for more information, or have questions, please join us this Q&A session. We will have representatives from the Dept. of Admin. team to help answer your questions. 
Come prepared!  Go through the resources available and start your application before hand. Resources can be found here .
Facilitated by:
Madeleine McGee
President, Together SC
Benjamin Bullock
Director of Operations, Together SC
Attendees (247)
Allison Hunt
Executive Director
USS Yorktown Foundation
Amanda Hollinger
Executive Director
Head & Neck Cancer Alliance
Amanda Kowal
Communications and Administration Associate
Tri-County Cradle to Career Collaborative
Amy Brennan
Outgoing Executive Director
Dragon Boat Charleston
Amy Carter
Director of Development
Turtle Survival Alliance
Amy Ellisor
Executive Director
Camp Discovery
Andrew McGlaughon
Director of Development, Strategy & Communications
Engaging Creative Minds
Angie Reynolds
Director of Education
Trident United Way
Anne Reid
Chief Development Officer
Association for the Blind and Visually Impaired SC
Ashley Nelson
Program & Communications Officer
Frances P. Bunnelle Foundation
Ashley Whitt
Senior Program Officer
The Spartanburg County Foundation
Barbara Black
Founder/CEO
Lydia's Bowels of Mercy Home, Inc
Barbara Rackes
CEO
SC Women in Leadership
Carmen Levitt
Director of Administrative Affairs
Spartanburg Academic Movement
Carol Reeves
Executive Director
Just Say Something
Carol Yarborough
Executive Director
Dickerson Children's Advocacy Center
Catriona Carlisle
Executive Director
Meals on Wheels of Greenville
Chris Barrett
Executive Director
Huguenot Society of SC
Christine Ellis
Deputy Director
Winyah Rivers Alliance
Dan Daniel
Director of Development and Communications
Charleston Parks Conservancy
Daniel Prohaska
President & CEO
Lions Vision Services
David Green
Director of Business Development
Osprey Village Inc.
David Platts
South Carolina Arts Commission
Djuanna Brockington
Executive Director
People Against Rape
Donald Supplee
President
United Way of Kershaw County
Eileen Chepenik
Executive Director
Trident Literacy Association
Elaine DeaKyne
Executive Director
Postpartum Support Charleston
Emily Miller
Executive Director
Children's Advocacy Center of Spartanburg, Cherokee and Union Counties, Inc.
Erin Ulmer
Executive Director
Camp Rise Above
Evelyn Disher
Board Member
Orangeburg County Community of Character
Faith Muddiman
Director of Grants Management
Dorchester Children's Center
Gabby Totokotsopouos
Business Manager
Charleston Wine + Food
Gabrielle Yarborough
Development Director
East Cooper Habitat for Humanity, Inc.
GP McLeer
Executive Director
South Carolina Arts Alliance
Hannah Charney
Development Coordinator
Charleston Symphony Orchestra
Heather Witt
Vice President of Community Impact
United Way of the Piedmont
Jaclyn Cobosco
Development Officer
Greenville Tech Foundation, Inc.
Jana Riley
Executive Director
Public Works Art Center
Jeffrey Fleming
Chief Operating Officer
Palmetto Project, Inc.
Jenna Elser
Artistic Director
Greenville Light Opera Works
Jennifer Olmert
Executive Director
Upstate Mediation Center
Jennifer Robinson
Executive Director
Empowered to Heal
Joe Huggins
Executive Director
Home Works of America
Joe Kunkel
Executive Director
Neighbor to Neighbor of South Carolina
Johanna Ballesteros
Public relations
AHAM (Hispanic-American Women's Association)
John Jaraczewski
Executive Director
Greenville Literacy Association, Inc.
Johnnie Luehrs
Executive Director
Rural Area Leadership Initiative-Dillon County
Joy Dickerson
Financial Director
Upstate Forever
KAREN QUADRIO
Director of Development & Marketing
Charleston Promise Neighborhood
Kate Sanders
Director of Administration and Marketing
Ronald McDonald House Charities of the Carolinas
Kathy Grier
Executive Director
York County Free Clinic
Kelley Ezell
Executive Director
Upstate Family Resource Center
Kelsey Crum
Executive Director
Carolina Dance Collaborative
Kevin McCray
Community Building & Grants Manager
Frances P. Bunnelle Foundation
Kiki Dean
Director of Organizational Development & Ops
SC Center for Fathers and Families
Kimberly Love
Board Chair
Killingsworth, Inc.
Laura Gassler
Executive Director
Habitat for Humanity Georgetown County
LaVanda Brown
Executive Director
YWCA Greater Charleston
Lelia King
Executive Director
Build Carolina
Lili Coleman
Executive Director
Second Helpings, Inc.
Louise Carson
Executive Director
Children's Recovery Center
Luanne Rodgers
Chief Philanthropy and Mission Advancement Officer
Windwood Family Services
Mackie Moore
Executive Director
Thrive SC (Thrive Saves Lives)
Madeleine McGee
President/CEO
Together SC
Malcolm Gordge
Director
Camp Discovery
Mandy Black
Executive Director
Little Steps
Marisel Losa
President & CEO
United Way of Greenwood and Abbeville Counties
Mary Butz
Administration & Office Coordinator
Tri-County Cradle to Career Collaborative
Mary Higginbotham
GOoD Works
Mary Hipp
Board Chair
Feed & Seed
Maureen Cannon
Board Member
Pattison's Academy
Meg Stanley
Executive Director
Eat Smart Move More SC
Megan Reilly
Development Director
Charleston Pro Bono Legal Services
Melodie Orr
Finance/Office Manager
GRASP
Norma Jean Suarez
Executive Director
Unity Health on Main
Pam Benedict
Dir. of Operations & Development
Hope Remains Ranch
Patsy Whitney
Executive Director
St. Luke's Free Medical Clinic
Rachael Fulmer
SC Business Developer
Lutheran Services Carolinas
Rebecca Bova
Internal Coordinator
Neighbor to Neighbor of South Carolina
Renee Kjosa
Office Manager
Boys and Girls Club of the Grand Strand
Robin Gabriel
Executive Director
Kaminski House Museum
Sara Green
Executive Director
SC Wildlife Federation
Schrendria Robinson
Executive Director
Killingsworth, Inc.
Serena Miles
Director of Finance and Operations
United Way of the Lowcountry
Shawn Parker
President/ Founder
H.O.P.E. Ministries of the Upstate
Sheila Caldwell
President/Founder
The Heart2Heart Foundation, Inc.
Simone
South Carolina Arts Alliance
Stacy McCloghry
Director of Business Operations
Governor's School for Science and Math Foundation
steve saltzman saltzman
CEO
Charleston LDC
Tabitha James
Strategic Developer
Rural Area Leadership Initiative-Dillon County
Tamara Herring
Executive Director
Morris Center for Lowcountry Heritage
Tami Barlow
Director of Operations
Charleston Promise Neighborhood
Tami Enright
Executive Director
The Bee Cause Project
Tannesha Clements
Executive Director/ COO
Lydia's Bowels of Mercy Home, Inc
Tatjana Beylotte
Executive Director
Charleston Jazz
Teresa Creech
Executive Director
The Early Learning Partnership of York County
Theresa Bowles
Volunteer, Past Board Chair
Angels Charge Ministry
Tim Veeck
CEO
Habitat for Humanity of York County
Tom Knapp
Executive Director
South Carolina Network Of Childrens Advocacy Centers
Traci Kennedy
Executive Director
TOTAL Ministries
Tracy Bailey
Chief Executive Officer
Freedom Readers
Vivian Glover
Director of Community Arts and Development
Orangeburg County Fine Arts Centr
Werner Rotach
Treasurer
Staying Connected
Winn Fitzgerald
Executive Vice President
Lions Vision Services
142 Other Registered Attendees
Co-Presented With: