Talking Together with Nonprofit Leaders: Are You IN? (Inclusive)
---
Wednesday, January 27, 2021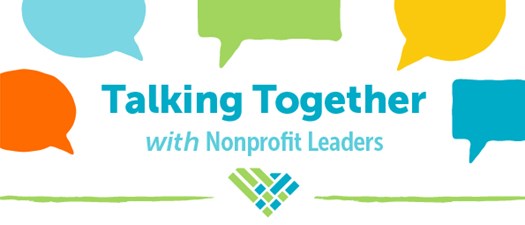 Living in America in 2020 was exhausting for everyone. No matter your age, gender, race or sexual orientation you've struggled.
If we are being honest, during this time we can acknowledge the increased disparities as it relates to healthcare and racial injustices, etc.
Kyle Korver, NBA Player – Milwaukee Bucks, has a moment of self-reflection and shares his views on privilege as a white, professional athlete.
In preparation for this session, please read Kyle's Letter here: https://www.theplayerstribune.com/en-us/articles/kyle-korver-utah-jazz-nba.
Let's talk about bias, privilege and how we can all become better allies during this time of isolation and social distancing. Rather than point the finger and assume others are responsible for the lack of inclusivity without ever challenging ourselves to look in the mirror, let's follow Kyle's lead. The choice is YOURS! Are you IN(clusive)?
Session Goals:
Understand what bias is and the impacts it has
Understand what privilege is and what it means
Learn how bias/privilege influence our daily interactions
Discuss ways to become an active Ally
Guest Speakers:
Director of Diversity & Inclusion,
Milliken & Company
Director of Learning and Development,
Milliken & Company
Attendees (128)
Addy Smith
Event & Operations Director
Anderson Arts Center
Alesia Carter
Executive Director
United Way of Laurens County
Alphia Dunbar
Training Consultant
SC Human Affairs Commission
Angie Reynolds
Director of Education
Trident United Way
Anita Case
Executive Director
Affinity Health Center
Aryele Redmond
Resource Development Manager
United Way of Laurens County
Ashley Nelson
Program & Communications Officer
Frances P. Bunnelle Foundation
Becca Bosch
Program Sustainability AmeriCorps VISTA
NAMI Greenville
Becky Callaham
Executive Director
Safe Harbor
Belle Zeigler
Executive Director
Eastern Carolina Community Foundation
Beth De Santis
CEO
Fact Forward
Beth Singletary
Director of Accountability and Admin
Richland County First Steps
Britney Mazyck
Operations Manager
Community Initiatives, Inc.
Brooke Robertson
Graphic Designer | Developer
Neue South Collective
Carey Rothschild
Director, Community Health Policy and Strategy
AccessHealth Spartanburg
Carol Reeves
Executive Director
Just Say Something
Caroline Byrd
VP of Corporate Development
Trident United Way
Catherine Puckett
Program Director
Nonprofit Alliance
Charles Weathers
Consultant
The Weathers Group
Chelsi Conaway
Executive Director
The Human Services Alliance of Greater Prince William
Cheryl O'Donnell
Executive Director
Florence Crittenton Programs of SC
Cierra Fowler
Director of Resident and Community Engagement
Spartanburg Housing
Cindy Johnson
Executive Director
Camp Happy Days, Inc.
Dayle Stewart
Community Engagement Director
Rebuild Upstate
Dodi Hodges
Executive Director
Palmetto Literacy Council
Doug Snyder
Virtual CFO | Trusted Advisor
DigitalCPA
Eileen Chepenik
Executive Director
Trident Literacy Association
Elizabeth Houck
Strategic Initiatives Associate
Central Carolina Community Foundation
Emily Juszczyk
Camp & Programs Manager
Camp Happy Days, Inc.
Ernest Brown
CEO
North Central Family Medicine
Geales Sands
Executive Director
Frances P. Bunnelle Foundation
Gillian Zettler
Executive Director
Charleston Wine + Food
Grace Lewis, CFRE
COO
Pathwys Community Center
Hannah Horne
VP of Public Policy and Programs
Hilton Head Island Bluffton Chamber of Commerce
Heather Witt
Vice President of Community Impact
United Way of the Piedmont
Holly Raines
Volunteer and Development VISTA
St. Luke's Free Medical Clinic
Janie Williams
Administrator
V.V.Reid School
Jessica Woolsey
Teach for America
Joe Huggins
Executive Director
Home Works of America, Inc.
Johnnie Luehrs
Executive Director
Rural Area Leadership Initiative-Dillon County
Julie Trott
Executive Director
Habitat for Humanity of Kershaw County
Julie Walker
President
J.H. Walker Legacy Foundation
Kati McArdle
Grants Manager
Coastal Conservation League
Katy Sides
Knowledge Management Officer
Hollingsworth Funds
Kayla Huff
Volunteer Manager
Charleston Parks Conservancy
Kelley Ezell
Executive Director
Upstate Family Resource Center
Kendall Biga
Program Coordinator
Charleston Hope
Kevin Patten
Vice President for Finance & Administration
Central Carolina Community Foundation
Kim Fabian
Executive Director
Greenville Center for Creative Arts
Kimberly Howell
Director of Development
Summerville Family YMCA
Larry Hembree
Executive DIrector
Columbia Children's Theatre
LaTonya Boyd
Executive Director
Chester County First Steps
Leesa Aiken
Agency Director
South Carolina State Library
Leigh Thomson
Executive Director
Dorchester Seniors, Inc.
Lisa Hart
Executive Director
Carolina Teen Center
Lisa Larson
Executive
Just Say Something
Lucy Woodhouse
Director
Wofford College
Mamie Nicholson
President
The Self Family Foundation
Mandy Black
Executive Director
Little Steps
Marcia Bacon
CEO
Richland County First Steps
Megan Reilly
Development Director
Charleston Pro Bono Legal Services
Nancy Appel
Development Director
Coastal Conservation League
Nicole Echols
Director of External Affairs
Harvest Hope Food Bank
Oakley Dickson
Executive Director
Youth Corps
Quinn Hayes
Director of Women in Philanthropy
Harvest Hope Food Bank
Rachael Fulmer
SC Business Developer
Lutheran Services Carolinas
Rhonda O'Banion
Manager, Public Affairs
Dominion Energy
Sara Green
Executive Director
SC Wildlife Federation
Scott Gibbs
Vice Chairperson
Beaufort Arts Council
Selena Anderson
Director, Human Resources
Girl Scouts of South Carolina - Mountains to Midlands
Shelli D Quenga
Director of Programs
Palmetto Project, Inc.
Steven Burritt
Executive Director
Mothers Against Drunk Driving
Summer Tebalt
Director
AccessHealth Spartanburg
Susan Anderson
VP of Development
Anderson Interfaith Ministries
Susan Crooks
President
Walt's Waltz
Susan DeVenny
CEO
Arras Foundation
Tabitha James
Strategic Developer
Rural Area Leadership Initiative-Dillon County
Tamara Herring
Executive Director
Morris Center for Lowcountry Heritage
Tara L. Burgess
Director, Finance & Grants
Children's Attention Home
Tatjana Beylotte
Executive Director
Charleston Jazz
Teresa Goodman
Executive Director
Community Initiatives, Inc.
Tessa May
Interim Executive Director
Loaves & Fishes
Theresa Bowles
Volunteer, Past Board Chair
Angels Charge Ministry
Tish McCutchen
Director
Jolley Foundation
Yolanda Anderson
Development/Donor Manager
Midlands Mediation Center
Zelda Waymer
President & CEO
South Carolina Afterschool Alliance
42 Other Registered Attendees