Connected: Understanding the Opinion Page
---
Tuesday, February 16, 2021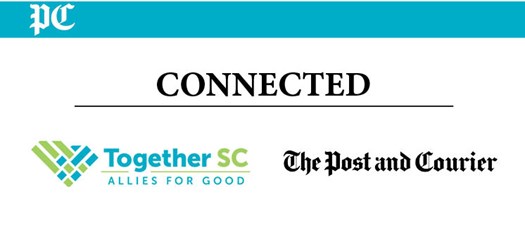 CONNECTED - Offers six exclusive virtual sessions led by members of The Post and Courier team to help build relationships with the leaders of communities they aim to serve.
This month Rick Nelson, Editorial Page Editor, and Cindi Ross Scoppe, Editorial Writer, will join us to discuss the Opinion Page and the difference between news and editorials and facts and opinions. They will review the use of Letters to the Editor, Commentary and Editorials. What's the intent of each tool and when to use which to advance your message.
Come ready with your questions. Engagement will be our objective.
All session are free of charge and are limited only to current Together SC members, including their staff and board.
Having trouble signing in to register? Not sure if your organization is a member? Contact Brandi Elkins: brandi@togethersc.org.
Next Session:
March 16 – Honing Your Message - Press Releases and Marketing that Work
Attendees (73)
Abby Harwell
Communications Specialist VISTA
United Way of the Piedmont
Alex Moore
United Way of the Piedmont
Alice Lang
Grants Coordinator
SC School for the Deaf and the Blind Foundation
Amelia Holcombe
Program Associate
Gaylord & Dorothy Donnelley Foundation
Amy Breault
Executive Director
Horry County First Steps
Ann Warner
CEO
Women's Rights and Empowerment Network
Anne Salley
Director O Marketing
Smith Medical Clinic
Beth De Santis
CEO
Fact Forward
Beth Shaull
Senior Director of Operations
SC Thrive
Brooke Robertson
Graphic Designer | Developer
Neue South Collective
Bushnell Brunson
Communications & Membership Coordinator
SC Association for Community Economic Development
Carol Reeves
Executive Director
Just Say Something
Cherise Arrendale
Strategic Initiatives and Communications Manager
Central Carolina Community Foundation
Cheryl O'Donnell
Executive Director
Florence Crittenton Programs of SC
Christine Ellis
Deputy Director
Winyah Rivers Alliance
Cindy Johnson
Executive Director
Camp Happy Days, Inc.
Dan Krosse
Media / Marketing Consultant
Charleston Animal Society
Dana McConnell
Executive Director
Center for Developmental Services
Diane Smock
Community volunteer (former elected official)
Community volunteer
Dolly Patton
Executive Director
Saluda Shoals Foundation
Donn Mack
Executive Director
South Carolina Community Health Worker Association
Elizabeth Hamilton
Administrative Officer
James Island Outreach
Ellen Stevenson
Nonprofit Consultant
Hispanic Alliance
Erica Teal
Communications Coordinator
Children's Cancer Partners
Evan McLeod
Volunteer & Donation Coordinator
Greer Relief and Resources Agency, Inc.
GP McLeer
Executive Director
South Carolina Arts Alliance
Holly Shinn
Communications Director
SC Community Loan Fund
Jaleh Snell
Managing Member
SC Gas Tax Credit App, LLC
Jamie Moon
President
Institute for Child Success
Janie Williams
Administrator
Reid Chapel AME Church/V.V. Reid School
Jessica Munday
President
Trio Solutions Inc. (TRIO)
Jordan Amaker
Director of Marketing & Communications
Lowcountry Local First
KAREN QUADRIO
Director of Development & Marketing
Charleston Promise Neighborhood
Kati McArdle
Grants Manager
Coastal Conservation League
Kerri Forrest
Lowcountry Program Director
Gaylord & Dorothy Donnelley Foundation
Kimberly Martinez-Ward
CEO
Compass of Carolina
Langley Shealy
Steering Committee
Erskine Theological Seminary
Laurie Rovin
Nonprofit Consultant/Interim Executive Director
Laurie Rovin, LLC
Lelia King
Executive Director
Build Carolina
Lisa Larson
Executive
Just Say Something
Lisa Maronie
Communications Associate
Institute for Child Success
Luanne Rodgers
Chief Philanthropy and Mission Advancement Officer
Windwood Family Services
Macy Whitener
Communications Coordinator
Arras Foundation
Madeleine McGee
President/CEO
Together SC
Madelyn Smith
Operations and Volunteers Director
Home Works of America, Inc.
Marc Pitman
CEO
The Concord Leadership Group
Marie-Louise Moreto
President
Mount Pleasant Community Arts Center Committee
Marisel Losa
President & CEO
United Way of Greenwood and Abbeville Counties
Mary Dell Hayes
Principal Consultant
Together SC
Maya Pack
Executive Director
South Carolina Institute of Medicine & Public Health
Megan Byron
Charleston Promise Neighborhood
Nancy Lee
Executive Director
South Carolina Association of Habitat for Humanity
Nancy Tolson
Asst. Dir. African American Studies
University of South Carolina
Natalia Valenzuela Swanson
Program Director, Healthy Eating & Active Learning
Mary Black Foundation
Norma Jean Suarez
Executive Director
Unity Health on Main
Paige Knowlson
Executive Director
Pattisons Academy
Phillip Clark
Associate Director
Just Say Something
Quinn Hayes
Director of Women in Philanthropy
Harvest Hope Food Bank
Rebecca Jacobson
Executive Director
Smokefree SC
Rhonda Obanion
Manager, Media Relations
Dominion Energy
Sam Clements
Executive Director
Doors To Dream
Sherry Gilliam
Executive Director
Charleston County First Steps to School Readiness
Steve Skardon
Executive Director
Palmetto Project
Steven Burritt
Executive Director
Mothers Against Drunk Driving
Sue Martin
Executive Director
Hemophilia of South Carolina
Tom Swanciger
Executive Director
Father to Father, Inc.
Yarley Steedly
Government Relations Director
American Heart Association
6 Other Registered Attendees
Insert Logo Here once received