CONNECTED: Honing Your Message
---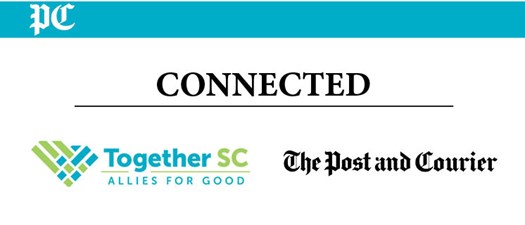 CONNECTED - Offers six exclusive virtual sessions led by members of The Post and Courier team to help build relationships with the leaders of communities they aim to serve.
In this our third call, Michael Chauvin, Director of Advertising at The Post and Courier, and Reva Joy Henderson, Director of Client Services, King + Columbus (The Post and Courier's inhouse marketing agency), will join us to discuss how The Post and Courier and King + Columbus partner with local businesses and nonprofits to help build their strategic marketing plans.
They will take a deep dive into the process of setting realistic, measurable goals that navigate the changing landscape of traditional and digital marketing platforms.
They will also offer tactical recommendations that will help deliver the right message to the right audience, at the right time!
Come ready with your questions. Engagement will be our objective.
All session are free of charge and are limited only to current Together SC members, including their staff and board.
Having trouble signing in to register? Not sure if your organization is a member? Contact: membership@togethersc.org
Next Sessions:
Attendees (99)
Abby Harwell
Communications Specialist VISTA
United Way of the Piedmont
Abby Watson
Rebuild Upstate
Acecily Alexander
Community Manager
Enough Pie
Alecia Brewster
Program Director
Sustaining Way
Alex Moore
United Way of the Piedmont
Alex Russell
Executive Director
Tri-County S.P.E.A.K.S.
Alexandria Searles
Marketing
Metanoia
Alice Lang
Grants Coordinator
SC School for the Deaf and the Blind Foundation
Amy Holbert
Chief Executive Officer
Family Connection of SC
Angela Rodriguez
Executive Director
SC Spinal Cord Injury Association
Becca Turner
Program Director
Little Steps
Belle Zeigler
Executive Director
Eastern Carolina Community Foundation
Beth De Santis
CEO
Fact Forward
Blair Stephenson
Digital Media Specialist
Center for Developmental Services
Brittany Burkett
Marketing and Development Manager
Charleston Jazz
Brooke Robertson
Graphic Designer | Developer
Neue South Collective
Bushnell Brunson
Communications & Membership Coordinator
SC Association for Community Economic Development
Carol Reeves
Executive Director
Just Say Something
Casey Rasmussen
Development Associate
Lighthouse Ministries
Chelsi Conaway
Executive Director
The Human Services Alliance of Greater Prince William
Cherise Arrendale
Strategic Initiatives and Communications Manager
Central Carolina Community Foundation
Christine Ellis
Deputy Director
Winyah Rivers Alliance
Connie Rich
Dental Operations Manager
Welvista, Inc.
Corinne Ducusin
Director of Communications
Helping Hands, Inc.
Courtney Thomas
Director of Communications
Women's Rights and Empowerment Network
Dana McConnell
Executive Director
Center for Developmental Services
Daniel Prohaska
President & CEO
Lions Vision Services
Darlene Paradise
Director of Development
Dickerson Children's Advocacy Center
Dean Hybl
Executive Director
Ten at the Top
Diane Carlson
Associate Director
Hospice & Palliative Care Foundation
Dodi Hodges
Executive Director
Palmetto Literacy Council
Donn Mack
Executive Director
South Carolina Community Health Worker Association
Elmire Raven
East Cooper Community Outreach
Erica Teal
Communications Coordinator
Children's Cancer Partners
Evan McLeod
Volunteer & Donation Coordinator
Greer Relief and Resources Agency, Inc.
Gabrielle Yarborough
Development Director
East Cooper Habitat for Humanity, Inc.
Holly Shinn
Communications Director
SC Community Loan Fund
Jaclyn Cobosco
Development Officer
Greenville Tech Foundation, Inc.
Jaclyn Kohlhepp
CEO, JTK Consulting LLC
JTK Consulting LLC
James Dismond
Sr. Director, Business Development
Hospice Care of the Lowcountry
Jeanie Farmer
Executive Director
The Vision Institute of South Carolina, Inc.
Jessica Munday
President
Trio Solutions Inc. (TRIO)
Jill Hulsen
VP, Operations & Programs
Charleston Promise Neighborhood
Jordan Amaker
Director of Marketing & Communications
Lowcountry Local First
Judy Outlaw
Interim Executive Director
Nicholtown Child and Family Collaborative
Judy Wilson
Director of Development
Greenville Tech Foundation, Inc.
Julie Lonon
Director of Development
ETV Endowment of South Carolina
Julie Walker
President
J.H. Walker Legacy Foundation
kara anderson
communication
USTA South Carolina
KAREN QUADRIO
Director of Development & Marketing
Charleston Promise Neighborhood
Kati McArdle
Grants Manager
Coastal Conservation League
Kerri Forrest
Lowcountry Program Director
Gaylord & Dorothy Donnelley Foundation
Kevin Cartee
Executive Director
Camping Ministries of the Carolinas, Inc.
Kimberly Witherspoon
Haynsworth Sinkler Boyd, P.A.
Langley Shealy
Steering Committee
South Carolina Grantmakers Network
LaTonya Boyd
Executive Director
Chester County First Steps
Lee Goble
Communications Associate
Central Carolina Community Foundation
Lelia King
Executive Director
Build Carolina
Lisa Hart
Executive Director
Carolina Teen Center
Lisa Maronie
Communications Associate
Institute for Child Success
Logen Hall
Marketing and Communications Manager
ETV Endowment of South Carolina
Luanne Rodgers
Chief Philanthropy and Mission Advancement Officer
Windwood Family Services
Macy Whitener
Communications Coordinator
Arras Foundation
Madeleine McGee
President/CEO
Together SC
Madelyn Smith
Operations and Volunteers Director
Home Works of America, Inc.
MAKEDA NAEEM
Community Engagement
Charleston Promise Neighborhood
Malcolm Gordge
Director
Camp Discovery
Marcia Bacon
CEO
Richland County First Steps
Marie-Louise Moreto
President
Mount Pleasant Community Arts Center Committee
Marisel Losa
President & CEO
United Way of Greenwood and Abbeville Counties
Maurice Lawyer
Chief of Operations
The Legacy Foundation of SC
Maya Pack
Executive Director
South Carolina Institute of Medicine & Public Health
Megan Byron
Charleston Promise Neighborhood
Megan Reilly
Development Director
Charleston Pro Bono Legal Services
Michael Brown
Executive Director
Sustaining Way
Michael Mahaffey
Director of Global and Regional Initiatives
Creo Coaching & Consulting
Nancy Lee
Executive Director
South Carolina Association of Habitat for Humanity
Norma Jean Suarez
Executive Director
Unity Health on Main
Phillip Clark
Associate Director
Just Say Something
Quinn Hayes
Director of Women in Philanthropy
Harvest Hope Food Bank
Rachael Fulmer
SC Business Developer
Lutheran Services Carolinas
Richard Puffer
Executive Director
Coker College & The Byerly Foundation
Sam Clements
Executive Director
Doors To Dream
Samantha Ingram
4K Outreach Manager
South Carolina First Steps
Samantha Zimmerschied
Executive Director
The Advanced Institute for Development and Learning
Shond Graham
Coordinator of Fundraising Events & Projects
The Legacy Foundation of SC
Siobhan Mendetzki
Marketing and Communications
Camp Happy Days, Inc.
Steven Burritt
Executive Director
Mothers Against Drunk Driving
Sue Martin
Executive Director
Hemophilia of South Carolina
Tami Barlow
Director of Operations
Charleston Promise Neighborhood
Tom Swanciger
Executive Director
Father to Father, Inc.
Yarley Steedly
Government Relations Director
American Heart Association
7 Other Registered Attendees
For More Information: