Board Engagement Services
Never under estimate the impact of ... "a truly engaged board."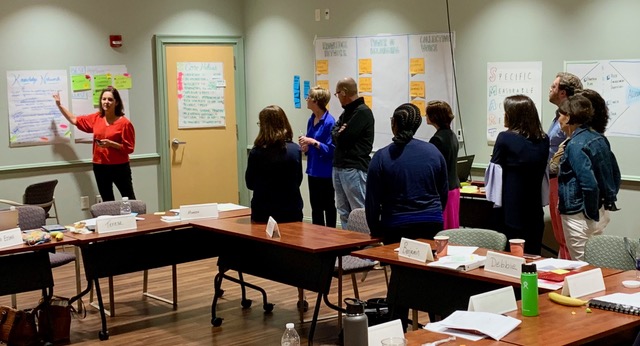 Is your organization's board new or going through a transition?
Are board members seeking greater engagement?
Would a little education and planning help focus board members' efforts?
Together SC's Board Engagement Services Can Help!!
---
One-Hour Board Consultation
FREE TOGETHER SC MEMBER BENEFIT
Together SC staff loves talkins with CEOs / executives and board chairs to help take your organization's "temperature" and provide guidance on strengthening your Chair / CEO partnership and planning next steps. We can help you answer questions like:
What initial steps should we take to begin building a truly engaged board where all members eagerly participate and find value in their services?
How can we as the board chair and CEO work more effectively as a team?
Can we increase engagement at our board meetings?
What Together SC tools and materials might help?
Contact Madeleine McGee to set up your free one-hour Board Chair / Exec Consult!
---
Board Development Tools:
Together SC works with a team of consultants to offer affordable training for your Board!
We ask that you contact us at lease six weeks prior to the proposed date. That gives us time to understand your needs and connect you with the consultant who will best meet your needs.
Review our four services listed below. Then, contact Madeleine McGee to get started.
---
How To Be An Effective Board
2-3 Hours
Member Rate: $750
Create a shared understanding of board members roles and responsibilities.
Agree on healthy boundaries between CEO and board.
Learn Board Governance Best Practices
Activate and motivate board committees with clear communications channels.
Learn tools for effective use of board meetings.
---
Creating and Maintaining High Performing Boards
2-3 Hours
Member Rate: $750
Understand the characteristics of an effective nonprofit board.
Learn attributes of an effective board member
Assess the composition of your current board and identify gaps.
Agree on strategies for board recruitment
Leave with a shared plan to identify and recruit effective board members
---
Combination Board Training
4-6 Hours
Member Rate: $1,000
Start with How To Be An Effective Board and complete your day making a plan to strengthen and energize your board with Creating and Maintaining High Performing Boards.
---
Align Your Board with a Common Purpose
6-8 Hour Tactical Planning Retreat
Member Rate: $1,500
Pre-Retreat: Meet with Together SC facilitator to identify your unique retreat goals.
Retreat Day
Learn and agree on Tactical Planning Process
Identify 3-5 SMART Goals to move your mission forward.
Create a one year tactical plan for achieving goals and objective
---
*Additional mileage and accommodation fees for travel over 30 miles may apply.