Talking Together: SBA Loan Application Details
---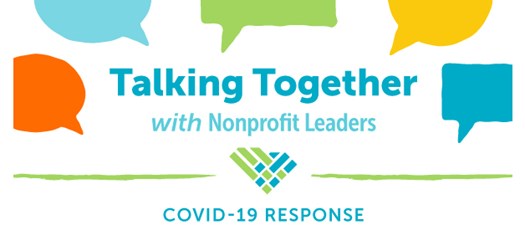 Please join us on Wednesday, April 15th at 12:00 pm for our weekly 1-hour presentation and conversation.
There are two Federal Loan programs that Nonprofits can apply for right now: COVID-19 Economic Injury Disaster Loan (EIDL) and the The Paycheck Protection Program (PPP).
Read all about these programs in our latest blog!
We will discuss and provide assistance about the application process.  More details coming soon.
We encourage you to be in front of your computer for this presentation. We will also utilize the chat box feature to help facilitate the conversation.
Attendees (112)
Adam Brown
Finance Manager
Family Connection of SC
Amy Ellisor
Executive Director
Camp Discovery
Angela Rodriguez
Executive Director
SC Spinal Cord Injury Association
Brenda Dooley
Hilton Head Regional Habitat for Humanity
Cara Senterfeit
Executive Director
Beginnings SC
Cassie Barber
Early Childhood Advisory Council Program Manager
South Carolina First Steps
Catherine Puckett
Program Director
Nonprofit Alliance
Catherine Schumacher
President / CEO
Public Education Partners
Cecilia Meggs
Executive Director
Lighthouse Ministries
Centuria Watson
Executive Director
Chester County First Steps
Cindi Rourk
CEO
Charleston LDC
Dana McConnell
Executive Director
Center for Developmental Services
David Green
Director of Business Development
Osprey Village Inc.
David Laird
Serve & Connect
Dean Hybl
Executive Director
Ten at the Top
Debbie Cooper
Director of Donor Services
Community Foundation of Greenville
Delores Dacosta
Executive Director
SC Commission for Minority Affairs
Derek Lewis
Executive Director
Greenville First Steps
Donna V.S. Ortega
Community Investment Officer
J. Marion Sims Foundation
Emily Parrish
Executive Director
Children's Attention Home
Francesca Lobban
Heart Rhythm Organization
Arrhythmia Alliance
Janie Lauve
Interim Director
Carolina Wildlife Center
Jennifer Bozard
Chief Operating Officer
One80 Place
Jennifer Derryberry
CFO
CommunityWorks Carolina
Jonathan Wright
Executive Director
Bridges for End-of-Life
Jordan Wolfe
Executive Director
Hub City Farmers' Market
Julie Trott
Executive Director
Habitat for Humanity of Kershaw County
Kathryn Boucher
Executive Director
Spartanburg Philharmonic
Katie Zimmerman
Executive Director
Charleston Moves
Kevin Patten
Vice President for Finance & Administration
Central Carolina Community Foundation
Kim Barnett
Operations Director
Middle Tyger Community Center
Kimberly Melick
Director Of Operations
Children's Cancer Partners of the Carolinas
Larry Collett
Co-Founder + Director
Charleston Leaders
Larry Hembree Hembree
Executive DIrector
Columbia Children's Theatre
Latorrie Geer
Chief Operating Officer
CommunityWorks Carolina
Laura Allen
Executive Director
Children's Cancer Partners of the Carolinas
Lucy Spears
Executive Director
Susan G. Komen Lowcountry
Madeleine McGee
President/CEO
Together SC
Malcolm Gordge
Director
Camp Discovery
Mindy Popovich
President
United Way of Sumter, Clarendon & Lee Counties
Molly Chappell-McPhail
Director of Advocacy and Expansion
BirthMatters
Molly Fortune
Executive Director
Newberry Opera House
Najmah Thomas
Assistant Professor
University of South Carolina
Nancy Appel
Development Director
Coastal Conservation League
Natalia Valenzuela Swanson
Program Director, Healthy Eating & Active Learning
Mary Black Foundation
Norma Jean Suarez
Executive Director
Unity Health on Main
Paula Marion
Chief Financial Officer
Drayton Hall Preservation Trust
Pete Mazzaroni
Executive Director
Marion County Healthcare Foundation
Rachal Hatton
Executive Director
South Carolina Respite Coalition
Sandee Hensley
Founder and Director/Head of School
Jubilee Academy
Shannon Johnson
Executive Director
SC Gastroenterology Assoc. Foundation
Stacy McCloghry
Director of Business Operations
Governor's School for Science and Math Foundation
Sue Berkowitz
Director
SC Appleseed Legal Justice Center
Susan DeVenny
CEO
J. Marion Sims Foundation
Tamara Herring
Executive Director
Morris Center for Lowcountry Heritage
Tara L. Burgess
Director, Finance & Grants
Children's Attention Home
Tatjana Beylotte
Executive Director
Charleston Jazz
Tim Veeck
CEO
Habitat for Humanity of York County
Trentsie Williams
Business Manager
Meg's House
Winn Fitzgerald
Executive Vice President
Lions Vision Services
52 Other Registered Attendees