Philanthropic Partners: Duke Endowment's New Funding Approach for 2021
---
Wednesday, December 16, 2020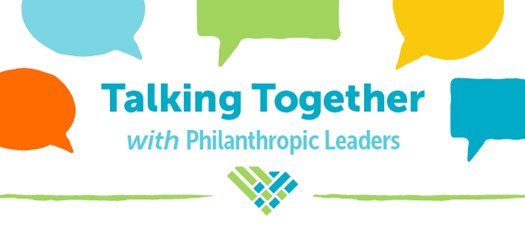 Rhett Mabry, president of The Duke Endowment  since 2016, will join us for our final Philanthropic Leaders Talking Together session of 2020.
What better way to close out this difficult year than by focusing on what we've learned and looking ahead. 
Rhett will share the journey the Endowment's staff and board have taken over the past two years as they worked to listen, understand and plan for tackling issues of systemic racism at work in North and South Carolina. 
Since 1924, The Duke Endowment has helped people and strengthen communities in North Carolina and South Carolina by nurturing children, promoting health, educating minds and enriching spirits. Recent findings include realizing more can be done to support organizations run by and serving communities of color.  
Join us as Rhett shares what he's learned along the way and how that might inform the work of other SC philanthropic and nonprofit organizations as we too aim to advance racial and social equity. 
Guest Speaker:
Rhett Mabry, President
Attendees (94)
Alicia Kokkinis
Grants Officer
Charleston County School District
Amy Holbert
Chief Executive Officer
Family Connection of SC
Amy Splittgerber
Executive Director
Healthy Learners
Anne Weston Sass
Grants Director
Roper St. Francis Foundation
Antonio Boyd
President and CEO
Think Tank Consulting Group, LLC
Ashley Redmond
Executive Director/Chief Development Officer
Roper St. Francis Foundation
Betty Gardiner
Director of Grantmaking and Development
South Carolina First Steps
Bob Morris
Community Foundation of Greenville
Dana McConnell
Executive Director
Center for Developmental Services
Daniel Prohaska
President & CEO
Lions Vision Services
Darlene Paradise
Director of Development
Dickerson Children's Advocacy Center
Debbie Easterling
Grant Writer
My Sister's House, Inc.
Erin Fisher
Global Engagement - South Carolina
The Boeing Company
Erin Johnson
Vice President for Community Investment
Central Carolina Community Foundation
GB Olsen
VP, Resource Development
United Way of the Midlands
Heather Witt
Vice President of Community Impact
United Way of the Piedmont
Jaclyn Cobosco
Development Officer
Greenville Tech Foundation, Inc.
Jeff McCormack
Executive Director
SC Physicians Care Charity
Jennifer McCormack
ED, Corp. and Foundation Philanthropy
College of Nursing - Light the Dome!
Jennifer Moore
VP of Community Impact
United Way of the Midlands
Kaky Grant
Principal
Grant Philanthropic Advisors
Karen Franklin
Senior Director of Foundation Relations
Clemson University
Karen Oliver
ECAC Program Manager
United Way of the Midlands
Kathleen Cates
Executive Director
Healthy Smiles of Spartanburg, Inc.
Kathleen Papadimitriou
CEO
Ronald McDonald House Charities of Charleston
Katy Smith
Executive Director
Piedmont Health Foundation
Kimberly Martinez-Ward
CEO
Compass of Carolina
Langley Shealy
Steering Committee
SC Grantmakers Network
Lesa Kastler
The Community Foundation of Greenville Board Chair
Madeleine McGee
President/CEO
Together SC
Megan Reilly
Development Director
Charleston Pro Bono Legal Services
Mike Darrow
Executive Director
Feeding the Carolinas
Molly Talbot-Metz
President
Mary Black Foundation
Natalia Valenzuela Swanson
Program Director, Healthy Eating & Active Learning
Mary Black Foundation
Sandy Morckel
President & Change Agent for Inspired Philanthropy
Solutions for the Greater Good
Sara Massey
President
Syn-Mass LLC
Stephen Baggett
Executive Director
Greenwood Area Habitat for Humanity
Theresa Bowles
Volunteer, Past Board Chair
Angels Charge Ministry
Tish McCutchen
Director
Jolley Foundation
Tricia Richardson
CEO
SC Thrive
Winn Fitzgerald
Executive Vice President
Lions Vision Services
Yarley Steedly
Government Relations Director
American Heart Association
50 Other Registered Attendees