Nonprofit Leaders Call - Facing Race Together: "I Am Not Alright"
---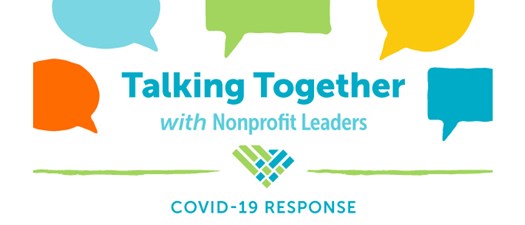 Together SC hosts weekly calls for nonprofit leaders across the state.
Our goal is to provide nonrpofit leaders with the information they need to tackle all that what's happening right now and to lift up and inspire.
These calls take place each Wednesday at noon
This Wedensday, June 10th:

Facing Race Together: I Am Not Alright
Darrin Goss, president and CEO of the Coastal Community Foundation of South Carolina, and Madeleine McGee, Together SC president will discuss Darrin's recent letter, "I am not alright."  This open and honest letter appeared in the June 8th edition of For Good Connections.
In it, Darrin generously shares with us his personal reactions to recent events and the murder of George Floyd in Minneapolis. 
He makes the case for equity rather than equality, and implores white people to speak up and act now. 
Wednesday's conversation will also discuss the role nonprofit leaders can play.
We also invite you to read "I'm Finally an Angry Black Man" in the New York Times written by SC's own Issac Bailey who wowed so many during his session at the 2020 Facing Race Together Summit. 
Join us to share your thoughts and learn how you can be part of healing 400 years of oppression.
It will take an unrelenting commitment from all of us.
Guest Speaker:
Darrin Goss, President & CEO
Coastal Community Foundation
Registration Process
Registering allows you to add the call to your calendar and provides you with the Zoom link and password.
After each weekly call, we will send out a follow-up email with the recording and other provided resources, as well as the link to register for the following week.
If you do not already have a profile in our database, be sure to set yours up when you register.  This will make registering for future events easier. 
If you have trouble, contact Brandi Elkins: brandi@togethersc.org.
Attendees (97)
Amber Hewitt
Manager of Community Impact
United Way of the Lowcountry
Amber Stewart
Program Associate
SC Association for Community Economic Development
Amy Breault
Executive Director
Horry County First Steps
Amy Brennan
Outgoing Executive Director
Dragon Boat Charleston
Anita Case
Executive Director
Affinity Health Center
Ann Timberlake
Timberlake Communications Inc
Bob Morris
Community Foundation of Greenville
Carol Reeves
Executive Director
Just Say Something
Caroline T. Robertson
Executive Director
Greer Relief and Resources Agency, Inc.
Cary Plummer
Executive Director
CanHope
Catherine LaCour
Chief Marketing Officer
Blackbaud
Catherine Puckett
Program Director
Nonprofit Alliance
Catriona Carlisle
Executive Director
Meals on Wheels of Greenville
Cheryl O'Donnell
Executive Director
Florence Crittenton Programs of SC
Cindy Johnson
Executive Director
Camp Happy Days, Inc.
Daniel Prohaska
President & CEO
Lions Vision Services
Darrin Goss
President & CEO
Coastal Community Foundation of SC
David Ray
Chief Conservation Officer
Lowcountry Land Trust
Dawn Lavoie
Executive Director
Little Steps
Dayle Stewart
Community Engagement Director
Rebuild Upstate
Debbie Nelson
President and Founder
DNA Creative Communications
Dolores Stegelin
Senior Fellow
Institute for Child Success
Donna V.S. Ortega
Community Investment Officer
J. Marion Sims Foundation
Erin Pate
President
EHP & Associates
Jeffrey Fleming
Chief Operating Officer
Palmetto Project, Inc.
Jonathan Wright
Executive Director
Bridges for End-of-Life
Karen Cantu
Executive Assistant
Institute for Child Success
KAREN QUADRIO
Director of Development & Marketing
Charleston Promise Neighborhood
Karen Salerno
Executive Director
Taylors Free Medical Clinic
Katherine Swartz Hilton, M.A.
Founder + Principal
Coax Strategies, LLC
Katy Motsinger
Community Resource Director
Children's Attention Home
Kendall Biga
Program Coordinator
Charleston Hope
Larry Hembree Hembree
Executive DIrector
Columbia Children's Theatre
Laryn Weaver
Executive Director
Greenville Area Parkinson Society
Laura Cantral
Executive Director
Coastal Conservation League
Lesa Kastler
Community Foundation of Greenville Board
Leslie Lee
Executive Director
Fine Arts Center of Kershaw County
Luanne Rodgers
Chief Philanthropy and Mission Advancement Officer
Windwood Family Services
Madeleine McGee
President/CEO
Together SC
Mary Woodiwiss
Director of Grants and Projects
Greenwood County Community Foundation
Maureen Cannon
Board Member
Pattison's Academy
Megan Wildebour
Managing Director
PURE Theatre
Meredith Donahue
Director of Fund Development
Habitat for Humanity of Horry County
Monroe Free
President and CEO
Habitat for Humanity of Greenville County
Nancy Appel
Development Director
Coastal Conservation League
Norma Jean Suarez
Executive Director
Unity Health on Main
Samantha Scott
Corporate Relations Manager
Charleston Parks Conservancy
Sarah Covington-Kolb
Maternal and Child Health Director
March of Dimes of South Carolina
Shannon Owen
Shannon Owen, Independent Nonprofit Consultant
Shelli D Quenga
Director of Programs
Palmetto Project, Inc.
Sherrie Snipes-Williams
CEO
Charleston Promise Neighborhood
Stacey Denaux
CEO
One80 Place
Steven Burritt
Executive Director
Mothers Against Drunk Driving
Tamela Spann
Vice President, Strategic Initiatives
Hollingsworth Funds
Tami Barlow
Director of Operations
Charleston Promise Neighborhood
Tara L. Burgess
Director, Finance & Grants
Children's Attention Home
Tes Myrie
Major Gift Officer
Coastal Conservation League
Tessa May
Interim Executive Director
Loaves & Fishes
Tish McCutchen
Director
Jolley Foundation
Tony McDade
Former Executive Director
United Ministries
37 Other Registered Attendees