Removing Our Blinders: Conversation with Gage Weekes of Hollingsworth Funds
---
Thursday, September 15, 2022
Category: Removing Our Blinders
RESCHEDULED! New Date - September 15th
Join us as Gage Weekes helps us consider how to advocate for racial equity change at a rate people can absorb.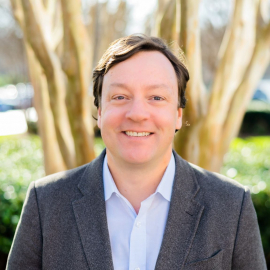 Having served as President & CEO of the Hollingsworth Funds since 2018, Gage will start by sharing the personal and professional experiences that have helped evolve his understanding of racial equity, including:
The values instilled at a young age that guides his leadership;
Stories of personal and professional reflection on the blinders he had to the issues of race and the need for racial equity; and,
The impact those experiences have had on his approach to leadership at Hollingsworth Funds and the change Hollingsworth hopes to inspire in Greenville.
As leaders, we can be impatient when it comes to the pace of change in the field of philanthropy and our communities. We often forget that to get to the "change we want to see," we must first understand and acknowledge how our personal views and experiences can impact our decisions and actions. One of the greatest challenges in leading is determining the pace of change needed for our organizations and communities. What will work best - persistent, incremental change? Or bold inspiring leaps?
Realizing that leadership is about creating change at a rate that people can absorb, Gage has offered to give an open and honest assessment of his own struggles and successes to date in pushing the accelerator versus pumping the brakes when advocating for advances in racial equity at Hollingsworth Funds and in the Greenville community they serve.
Hollingworth Funds' VP for Strategic Initiatives, and Together SC Board member, Tamela Spann, will also join us and share her reflections as a colleague.
Attendees (166)
59 Other Registered Attendees