Removing Our Blinders: Conversation with Gage Weekes of Hollingsworth Funds
---
Thursday, September 15, 2022
via Zoom
Category: Removing Our Blinders
RESCHEDULED! New Date - September 15th
Join us as Gage Weekes helps us consider how to advocate for racial equity change at a rate people can absorb.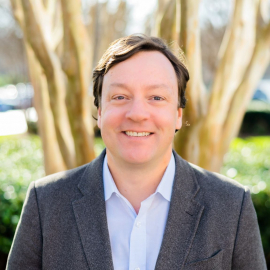 Having served as President & CEO of the Hollingsworth Funds since 2018, Gage will start by sharing the personal and professional experiences that have helped evolve his understanding of racial equity, including:
The values instilled at a young age that guides his leadership;
Stories of personal and professional reflection on the blinders he had to the issues of race and the need for racial equity; and, 
The impact those experiences have had on his approach to leadership at Hollingsworth Funds and the change Hollingsworth hopes to inspire in Greenville.
As leaders, we can be impatient when it comes to the pace of change in the field of philanthropy and our communities. We often forget that to get to the "change we want to see," we must first understand and acknowledge how our personal views and experiences can impact our decisions and actions. One of the greatest challenges in leading is determining the pace of change needed for our organizations and communities. What will work best - persistent, incremental change? Or bold inspiring leaps? 
Realizing that leadership is about creating change at a rate that people can absorb, Gage has offered to give an open and honest assessment of his own struggles and successes to date in pushing the accelerator versus pumping the brakes when advocating for advances in racial equity at Hollingsworth Funds and in the Greenville community they serve.
Hollingworth Funds' VP for Strategic Initiatives, and Together SC Board member, Tamela Spann, will also join us and share her reflections as a colleague. 
Attendees (166)
Aaron Stroud-Romero
VP of Field Operations
OneWorld Health
Adela Mendoza
Executive Director
Hispanic Alliance
Alana Jordan
Development & Membership Director
Together SC
Alexis Whitmire
Grants Administrator
Spartanburg Regional Foundation
Allison Safford
Strategic Initiatives Officer
Hollingsworth Funds
Amanda Crisp
finance team
United Way of the Piedmont
Amanda Richardson
VP for Resource Development
United Way of the Piedmont
Annah Nieman
Operations Coordinator
Florence Crittenton Programs of SC
Barbara Black
Founder/CEO
Lydia's Bowels of Mercy Home, Inc
Bethany Kern
Director of Development
Children's Museum of the Upstate
Betty Gardiner
Director of Grantmaking and Development
South Carolina First Steps
Bob Morris
Community Foundation of Greenville
Brooke Robertson
Graphic Designer | Developer
Neue South Collective
Bryson Young
Chief Advancement Officer
Association for the Blind and Visually Impaired SC
Carol Reeves
Executive Director
Just Say Something
Caroline T. Robertson
Executive Director
Greer Relief and Resources Agency, Inc.
Catherine Puckett
Program Director
Greater Good Greenville
Catie Davis
Director, Spartanburg
Children's Museum of the Upstate
Catriona Carlisle
Executive Director
Meals on Wheels of Greenville
Charm Lowe
Administrative Assistant
Spartanburg Community College Foundation
Chloe Jacobs
Epidemiology Intern
OneWorld Health
Christine Ellis
Deputy Director
Winyah Rivers Alliance
Claudia Cohen
Book keeper
Pee Dee Community Project
David Laird
Able South Carolina
Dawn Lavoie
Executive Director
Little Steps
Dean Hybl
Executive Director
Ten at the Top
Debbie Cooper
Director of Donor Services
Community Foundation of Greenville
Debra Buffkin
Executive Director
Winyah Rivers Alliance
Diane Smock
Community volunteer (former elected official)
Community Volunteer
Duchett Polite Hylton
Executive Director
Jasper County First Steps
Dymon Bryant
CEO
Pink DYMONS
Elmire Raven
East Cooper Community Outreach
Ericka Wooten
Sisters of Charity Foundation of SC
Filippo Ravalico
Director of Operations
South Carolina Environmental Law Project
Gage Weekes
President & CEO
Hollingsworth Funds
Geales Sands
Executive Director
Frances P. Bunnelle Foundation
Gina Blohm
Community Foundation of Greenville
Gina Bridges
Arts and Education Director
Hispanic Alliance
Greta Young
Executive Director
The Parenting Place
Hannah Jarrett
Director of Economic Mobility Strategy
United Way of the Piedmont
Heather Gatchell
Partner Engagement Director
Greenville Homeless Alliance
Jackie Gaffney
Accounting & Compliance Manager
CommunityWorks Carolina
Jamie Cooper
CEO
Communities In Schools of South Carolina
Jamie Moon
President
Institute for Child Success
Jannie Lincoln
Community Engagement Coordinator
Molina Healthcare
Jeff McCormack
Executive Director
SC Physicians Care Charity
Jennifer DeWitt
Chief Community Programs Officer
Lowcountry Food Bank
Jennifer Olmert
Executive Director
Upstate Mediation Center
Jennifer Rogers
Former Executive Director
PAALS
Jess Burgess
Chief Executive Officer
Greenville Center for Creative Arts
Justine Allen
Program & Event Coordinator
Ten at the Top
Kaky Grant
Principal
Grant Philanthropic Advisors
Karen Kimmel
Human Resources / Accounting Assistant
SOS Care
Karen Nichols
Stewardship Officer
Spartanburg County Foundation
Kathryn Harvey
Founder
Neue South Collective
Katy Sides
Knowledge Management Officer
Hollingsworth Funds, Inc.
Katy Smith
Executive Director
Greater Good Greenville
Kay Phillips
Executive Director
Children in Crisis of Dorchester County dba Dorchester Children's Advocacy Center
Kelley Laird
Energy Ambassador
Dominion Energy, Energy Wise
Kristin Garner
Senior Vice President of External Affairs
Communities In Schools of South Carolina
LaTonya Boyd
Executive Director
Chester County First Steps
Laura Bogardus
Co-founder
Noble Aim Consulting
Lauren Luneckas
Executive Director
Children's Museum of the Upstate
Laurie Rovin
Nonprofit Consultant/Interim Executive Director
Laurie Rovin, LLC
LaVanda Brown
Executive Director
YWCA Greater Charleston
Lisa Maronie
Communications Associate
Institute for Child Success
Lynda Guess
Project specialist
South Carolina Community Health Worker Association
Lyndsey Marchman
Grants Development Coordinator
Children's Trust of SC
Madeleine McGee
President/CEO
Together SC
Mamie Nicholson
President
The Self Family Foundation
Mandy Smen
Operations Manager
Neighbors Together
Margaret Tillman
Administrator
SC Commission for Minority Affairs
Maura Langston
Business Development Manager
Turn90
Michael Mahaffey
Director of Global and Regional Initiatives
Harvest Christian Ministries
Millicent Lann
Development & Outreach Coordinator
Justice 360
Minor Mickel Shaw
Chairman
Daniel-Mickel Foundation
Monica Hudgens
H.U.G.S AmeriCorps Program Director
Leeza's Care Connection
Natalia Valenzuela Swanson
Program Director, Healthy Eating & Active Learning
Mary Black Foundation
Natosha Hayward
Regional Coordinator
SC Thrive
Norma Jean Suarez
Executive Director
Unity Health on Main
Omme-Salma Rahemtullah
Policy and Advocacy Consultant
FoodShare SC
Paige Stephenson
President & CEO
United Way of the Piedmont
Rebecca Geigel
Finance Manager
Conservation Voters of SC Education Fund
Richmond Brown
Ambassador of Culture
Engaging Creative Minds
Rochelle Williams
Executive Director
Governor's School for the Arts and Humanities Foundation
Ryann McCall
Donor Engagement Associate
United Way of the Piedmont
Sally Ingles
Communications Director
SC Legal Services
Sandy Jordan
Director of Employment Programs
Able South Carolina
Sarai Melendez
Advocacy and Public Policy Director
Hispanic Alliance
Sharon Beaty
Volunteer & Prevention Coordinator
Rape Crisis Center of Horry & Georgetown Counties
Shelli D Quenga
Director of Programs
Palmetto Project, Inc.
Stella Moraes Gutberlet
Guest Services Manager
Children's Museum of the Upstate
Stephanie Yelder
Outreach Worker
Nurse-Family Partnership
Tamara Joseph
President
Transgender Awareness Alliance
Tamela Spann
Vice President, Strategic Initiatives
Hollingsworth Funds
Tamika Williams
The Duke Endowment
Teresa Johnson
Director of People & Culture
Lowcountry Food Bank
Terri Lottchea
Operations Manger
Frances P. Bunnelle Foundation
Terri Towle
Director of Fund Development
Leeza's Care Connection
Tessa May
Interim Executive Director
Loaves & Fishes
Tiffany Santagati
VP. Operations
Greenville Housing Fund
Timothy VanDenBerg
Attorney
VanDenBerg Law Firm LLC
Tish McCutchen
Director
Jolley Foundation
Tom Swanciger
Executive Director
Father to Father, Inc.
Wallace Daniel
VP of Development
Carolina Youth Development Center
Yolanda McCray
President & CEO
Black River United Way
59 Other Registered Attendees