Removing Our Blinders: A Look Back with Mayor Joseph P. Riley, Jr.
Bringing the Charleston Community Together
---
10:30 AM - 11:30 AM (EDT)
via Zoom
Category: Removing Our Blinders
Joe Riley is widely considered one of the most visionary and highly effective governmental leaders in America, having served ten terms as Mayor of the City of Charleston from 1975 to 2016.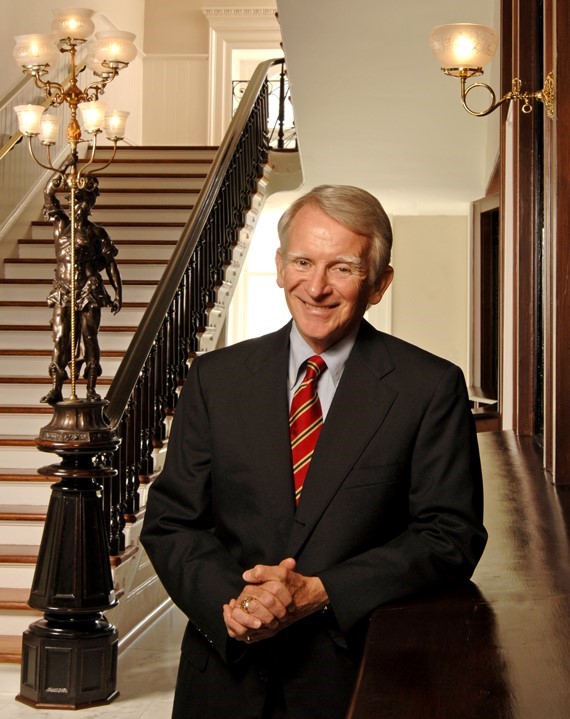 The city he stepped up to lead at the age of 32 was very poor, and still very segregated. The Charleston Hospital Strike, in which mostly black workers protested discrimination and low wages, had occurred just six years earlier, in 1969.
Together SC president, Madeleine McGee, also a Charleston native, literally "grew up" watching as Mayor Riley revitalized Charleston.
Join us, as Madeleine talks with Mayor Riley about his life-long focus on bringing the Charleston community together by advancing racial harmony and inclusion and challenging all citizens to demand excellence in community endeavors. 
Attendees (93)
Alex Taylor
Administrative Coordinator
Together SC
Alexandria Russell
Development Manager
Charleston Legal Access
Alice Hodges
Executive Director
Meg's House
Amanda Cote
Director of Operations
Charleston Parks Conservancy
Amy Wilson
Chief Compliance Officer
One80 Place
Angela Barwick
Program Director
Neighbor to Neighbor of South Carolina
Angela Johnson
Executive DIrector
Drawing Near to God Ministry
Ann Shubrick
Client Advocate
St. Cyprian Outreach Center
Barbara Black
Founder/CEO
Lydia's Bowels of Mercy Home, Inc
Beth Ruffin
Owner/Principal
The Everyday Inclusionist
Beverly Hutchison
Executive Director/CEO
The Dee Norton Child Advocacy Center
Brianna Pee
211 Regional Coordinator
United Way Association of SC
Brooke Robertson
Graphic Designer | Developer
Neue South Collective
Crystal Geathers
Site Administrator
St. Cyprian Outreach Center
DANIELLE LINDLEY
Community Relations Consultant
SC Human Affairs Commission
Dylan Gunnels
Executive Director
Haven Home Foundation (Haven Home)
Elizabeth Hartnett
Program Coordinator
SC Center for Community Literacy
Ericka Wooten
Sisters of Charity Foundation of SC
Fredrick Wichmann
El Jefe
Charleston Masters League
Gretchen Smith
Executive Director
Smith Medical Clinic
Heather Hu
Principal Consultant/Founder
HDH Advancement Group, LLC
Ida "Cathy" Breazeale
Founder and President
Columbus and Edith Rogers Mansell Foundation
Jacquie Atkins
Executive Director
Life Resources
Jamie Moon
President
Institute for Child Success
Jeffrey Fleming
Chief Operating Officer
Palmetto Project, Inc.
Jen Wright
Executive Director
Charleston Climate Coalition
Jennifer Bozard
Chief Operating Officer
One80 Place
Jennifer Olmert
Executive Director
Upstate Mediation Center
Josh Bullock
Insurance Agent/Resource Specialist
Palmetto Project, Inc.
Kaela Hammond
Program & Compliance Manager
Coastal Community Foundation of SC
Kaky Grant
Principal
Grant Philanthropic Advisors
Karen Quadrio
Chief Development Officer
Tri-County Cradle to Career Collaborative
Kathryn Harvey
Founder
Neue South Collective
Kimberly Humphrey
GCS Relations Associate
Richland County Government and Community Services
LaQuinta West
Deputy Director
Dorchester Seniors, Inc.
Laura Ringo
Executive Director
PAL: Play. Advocate. Live Well.
Leah Crosby
Program Office Manager/Literacy Outreach Coord.
Charleston County First Steps
Lindy Studds
Executive Director
Rape Crisis Center of Horry & Georgetown Counties
Luanne Rodgers
Chief Philanthropy and Mission Advancement Officer
Windwood Family Services
Lynn Brown-Bulloch
President, CEO
The Jonathan Foundation
Lynn Hutto
HR/Management Consultant
Greater Columbia Community Relations Council
Mandy Smen
Operations Manager
Neighbors Together
Mariah Johnson
Executive Assistant
Greenville Housing Fund
Mark Ward
Director of Operations and Member Services
United Way Association of SC
Maura Langston
Business Development Manager
Turn90
Michael Mahaffey
Director of Global and Regional Initiatives
Harvest Christian Ministries
Michel'le Cathey
Associate Director
The ARK of SC
Millicent Lann
Development & Outreach Coordinator
Justice 360
Nancy Lee
Executive Director
Habitat for Humanity South Carolina
Paige Stephenson
President & CEO
United Way of the Piedmont
Patsy Sawyer
Executive Director
Macedonia Life-Skills Center
Rachael Fulmer
SC Business Developer
Lutheran Services Carolinas
Robert S Hervey
Executive Director
Trident Habitat for Humanity, Inc.
Rochelle Williams
Executive Director
Governor's School for the Arts and Humanities Foundation
Stacey Denaux
CEO
One80 Place
Tami Barlow
Director of Operations
Charleston Promise Neighborhood
Teresa Johnson
Director of People & Culture
Lowcountry Food Bank
Terri Towle
Director of Fund Development
Leeza Gibbons Memory Foundation
Tish McCutchen
Director
Jolley Foundation
Tom Swanciger
Executive Director
Father to Father, Inc.
Tonya Matthews
President and CEO
International African American Museum (IAAM)
Torina Wood
Federal Fiscal Compliance and Audit Manager
United Way Association of SC
31 Other Registered Attendees
For More Information: