Nonprofit Leaders Call - Helping Clients Access Economic Impact Payments
---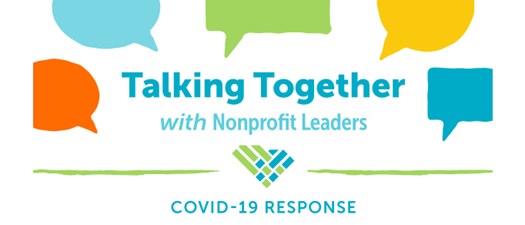 This Thursday, June 11th at 12pm.
Helping Clients Access Economic Impact Payments
The IRS is issuing Economic Impact Payments to every eligible American as authorized by the CARES Act.
Richard Freeman (IRS) will join us to share how nonrpofits can help individuals who do not normally file tax returns receive their payments.
These individuals include people with whom nonprofits often work, specifically homeless, unbanked and displaced citizens, as well as certain seniors and some limited English-proficient individuals.
These individuals will need to provide information to the IRS to receive their Economic Impact Payment via an online site: www.irs.gov/nonfilereip [irs.gov]
Some individuals may not have internet capability, a bank account or a permanent address. They may need additional assistance in claiming their payment.
Join us to learn how nonprofits can share information with those that may not know they are eligible and help them file for the payment.
Guest Speaker:

Senior Relationship Manager
Internal Revenue Service
Stay informed: www.irs.gov/coronavirus
Registration Process
Registering allows you to add the call to your calendar and provides you with the Zoom link and password.
After each weekly call, we will send out a follow-up email with the recording and other provided resources, as well as the link to register for the following week.
If you do not already have a profile in our database, be sure to set yours up when you register. This will make registering for future events easier.
If you have trouble, contact Brandi Elkins: brandi@togethersc.org.
Attendees (41)
Caprice Atterbury
CEO
Origin SC
Tami Barlow
Director of Operations
Charleston Promise Neighborhood
Tiffany Byrd
Executive Director
Safe Passage, Inc.
Brandi Elkins
Membership Manager
Together SC
Laura Gassler
Executive Director
Habitat for Humanity Georgetown County
Scott Gibbs
Vice Chairperson
Beaufort Arts Council
Ann Gowdy
Chief Innovation Officer
Eastern Carolina Homelessness Org, Inc.
Leslie Lee
Executive Director
Fine Arts Center of Kershaw County
Yolanda McCray
President & CEO
Black River United Way
Wilma Moore
Highland Community Engagement Coordinator
United Way of the Piedmont
Debbie Nelson
President and Founder
DNA Creative Communications
David Platts
South Carolina Arts Commission
Cary Plummer
Executive Director
CanHope
Carol Reeves
Executive Director
Just Say Something
27 Other Registered Attendees