Nonprofit Leaders Call with Dr. Duwve of SC DHEC
---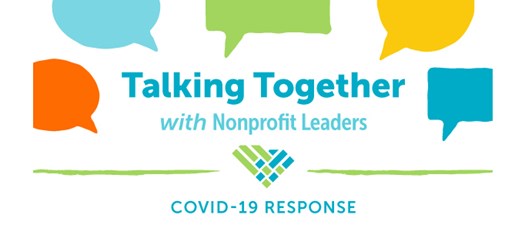 Join us on Wednesday, May 27th, for a combined call at 12pm for both philanthropic partners and nonprofit leaders!
Dr. Joan Duwve, who started this spring as Public Health Director for DHEC, will join us to discuss:
DHEC's overall work and findings (think data) related to the COVID-19 pandemic to help guide our work;
Ways in which we may be able to assist DHEC in achieving its mission, in particular helping with #StaySCStrong and getting out important public health messages; and
Advice and guidelines for leading our organizations and helping stop the spread. 
The call will be facilitated by
Erika Kirby
(Executive Director, BlueCross BlueShield of SC Foundation and Together SC Board member) and
Forrest Alton
(Founder & President, 1000 Feathers and Together SC Board member).
SC DHEC COVID-19 Data
Guest Speaker:
Dr. Joan Duwve, Public Health Director
SC Department of Health & Environmental Control (DHEC)
We encourage you to be in front of your computer for this presentation.
We will also utilize the chat box to get answers to your questions.
This call will be recorded and sent out to registrants within 48 hours of its conclusion.
Attendees (172)
Abby Blakely
AmeriCorps Program Coodinator
United Way of Greenville County
Alecia Klauk
Executive Director
Chapin We Care Center
Alphia Dunbar
Training Consultant
SC Human Affairs Commission
Amber Hewitt
Manager of Community Impact
United Way of the Lowcountry
Amy Brennan
Outgoing Executive Director
Dragon Boat Charleston
Anita Case
Executive Director
Affinity Health Center
Ann Timberlake
Timberlake Communications LLC
Ashley Crary Lidow
Associate Director of Policy and Government Rel.
Women's Rights and Empowerment Network
Audrey Lane
Executive Director
E3
Betsy Goodale
South Carolina Bar Pro Bono Program Director
South Carolina Bar
Bob Morris
Community Foundation of Greenville
Brandi Elkins
Membership Manager
Together SC
Brandy Singleton
Director of Disaster Services & Community Impact
United Way of Anderson County
Carol Reeves
Executive Director
Just Say Something
Carole Swiecicki
Chief Program Officer
Dee Norton Child Advocacy Center
Caroline Strauss
Director of Bridges Preschool
The Therapy Place, Inc.
Cary Plummer
Executive Director
CanHope
Catherine Puckett
Program Director
Nonprofit Alliance
Cheryl O'Donnell
Executive Director
Florence Crittenton Programs of SC
Chris Collins
Associate Director Health Care
The Duke Endowment
Christine DeMint
Development Director
Greenville Symphony Orchestra
Christine Ellis
Deputy Director
Winyah Rivers Alliance
Chynna A. Phillips
Senior Director of Policy and Research
Sisters of Charity Foundation of SC
Cindy Johnson
Executive Director
Camp Happy Days, Inc.
Claudia Brooks
Director, Always United and Development Officer
United Way of the Midlands
Courtney Thomas
Director of Communications
Women's Rights and Empowerment Network
Craig Currey
Chief Executive Officer
Midlands Housing Alliance
Daniel Prohaska
President & CEO
Lions Vision Services
David Platts
South Carolina Arts Commission
Debbie Cooper
Director of Donor Services
Community Foundation of Greenville
Debbie Jones
Executive Director
South Carolina Future Minds
Debbie Nelson
President and Founder
DNA Creative Communications
DeLana Dameron
Founder / Chief Strategist
Red Olive Creative Consulting
Dodi Hodges
Executive Director
Palmetto Literacy Council
Dolly Patton
Executive Director
Saluda Shoals Foundation
Donald Supplee
President
United Way of Kershaw County
Donna V.S. Ortega
Community Investment Officer
J. Marion Sims Foundation
Eileen Chepenik
Executive Director
Trident Literacy Association
Elizabeth Houck
Strategic Initiatives Associate
Central Carolina Community Foundation
Erika Kirby
Executive Director
BlueCross BlueShield of South Carolina Foundation
Erin Johnson
Vice President for Community Investment
Central Carolina Community Foundation
Erin Pate
President
EHP & Associates
Faye Jensen
CEO
South Carolina Historical Society
Forrest Alton
President
1000 Feathers
Gabby Totokotsopouos
Business Manager
Charleston Wine + Food
Gail Peay
VP of Strategic Initiatives
Habitat for Humanity of Greenville County
Heather Lother
Vice President of Engagement
u
Heather Witt
Vice President of Community Impact
United Way of the Piedmont
Jeff McCormack
Executive Director
SC Physicians Care Charity
Jeffrey Fleming
Chief Operating Officer
Palmetto Project, Inc.
Jennifer Crosby
Executive Director
Dorchester Two Educational Foundation
Jessica Burgoyne
Executive Director
Edisto Habitat for Humanity
Joe Kunkel
Executive Director
Neighbor to Neighbor of South Carolina
Julie M Capaldi
President
United Way of Pickens County
Kaky Grant
Principal
Grant Philanthropic Advisors
Karen Salerno
Executive Director
Taylors Free Medical Clinic
Kathy Binney
Executive Director
St. Christopher's Children Inc
Katy Motsinger
Community Resource Director
Children's Attention Home
Kay Phillips
Executive Director
Children in Crisis of Dorchester County
Kendall Biga
Program Coordinator
Charleston Hope
Kimberly Davis
Senior Community Relations Consultant
Wells Fargo
Langley Shealy
Steering Committee
SC Grantmakers Network
Larry Hembree Hembree
Executive DIrector
Columbia Children's Theatre
Latorrie Geer
Chief Operating Officer
CommunityWorks Carolina
Laura Gassler
Executive Director
Habitat for Humanity Georgetown County
Leslie Lee
Executive Director
Fine Arts Center of Kershaw County
Lili Coleman
Executive Director
Second Helpings, Inc.
Lisa Haas
Director of Operations
Miss Ruby's Kids
Lisa Van Bergen
Principal
Professional Nonprofit Solutions
Lynn Stockman
Executive Director
Newberry County Council on Aging
Mac Bennett
Senior Counsel
Capital Development Services
Mamie Nicholson
President
The Self Family Foundation
Marti Colucci
Managing Director
Leeza's Care Connection
Mary Woodiwiss
Director of Grants and Projects
Greenwood County Community Foundation
Meg Stanley
Executive Director
Eat Smart Move More SC
Melanie Huggins
Executive Director
Richland Library
Melissa Strompolis
Children's Trust of SC
Meredith Donahue
Director of Fund Development
Habitat for Humanity of Horry County
Michelle Shain
Senior Director of Development
United Way of Greenville County
Monica Woods
Director
Moses Manning Family Foundaion
NANCI SHIPMAN
Executive Director
WakeUp Carolina
Nancy Lee
Executive Director
SC Association of Habitat Affiliates
Natahsa Brockington
Executive Director
Miss Ruby's Kids
Natasha Jenkins
Fund Development Coordinator
United Way of Sumter, Clarendon & Lee Counties
Paige Knowlson
Executive Director
Pattison's Academy
Pam Temple
Program Director
J. Marion Sims Foundation
Penny Wright
Hope Center for Children
Pete Mazzaroni
Executive Director
Marion County Healthcare Foundation
Rachael Fulmer
SC Business Developer
Lutheran Services Carolinas
Rachal Hatton
Executive Director
SC Respite Coalition
Robert S Hervey
Executive Director
East Cooper Habitat for Humanity, Inc.
Sam Clements
Executive Director
Doors To Dream
Sandy Milliken
Executive Director
Staying Connected
Sara Green
Executive Director
SC Wildlife Federation
Sarah Covington-Kolb
Maternal and Child Health Director
March of Dimes of South Carolina
Schrendria Robinson
Executive Director
Killingsworth, Inc.
Sharon Graci
Artistic Director
PURE Theatre
Skeeter Powell
Executive Director
1944
Stacy McCloghry
Director of Business Operations
Governor's School for Science and Math Foundation
Steven Burritt
Executive Director
Mothers Against Drunk Driving
Sue Williams
CEO
Children's Trust of SC
Susan B Bankson
Wells Fargo
Susan Bill
Executive Director
Magnolia Memory Care
Susan DeVenny
CEO
J. Marion Sims Foundation
Susan Witkowski
Executive Director
Community Medical Clinic of Kershaw County
Tamara Herring
Executive Director
Morris Center for Lowcountry Heritage
Tamela Spann
Vice President, Strategic Initiatives
Hollingsworth Funds
Tanika Epps
CEO - Midlands
Communities In Schools of the Midlands
Tim Veeck
CEO
Habitat for Humanity of York County
Tish McCutchen
Director
Jolley Foundation
Tom Knapp
Executive Director
South Carolina Network Of Childrens Advocacy Centers
Tory Mackey
Executive Director
2002
Tricia Richardson
CEO
SC Thrive
Vicki Howard
Operations Manager
Charleston LDC
Vickie Moody
President & CEO
LeadingAge South Carolina
Victoria Ingalls
Director of Programs and Volunteer Engagement
Charleston Promise Neighborhood
Windy Key
Financial Solutions Account Executive
Blackbaud
Winn Fitzgerald
Executive Vice President
Lions Vision Services
53 Other Registered Attendees