Board Leadership Summits
2020 Board Summits will happen virtually with shared resources. Stay tuned.
2018 - 2019 Board Summit Recap
Engage Every Board Member From the Start!
Nonprofit organizations are constantly challenged to recruit the best board members and ensure their ongoing engagement in order to support their missions. The reality is that board development and engagement don't just happen. It all starts with a dedicated recruitment process.
As is true of everything in life, what your organization puts into the process of attracting and engaging strong board leaders will determine what you will get out of the process.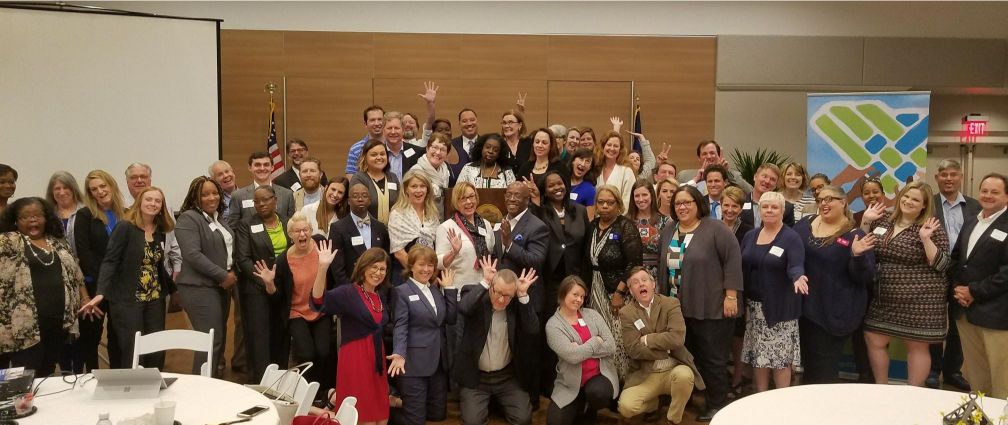 Who Should Attend?
Board Leadership Summits are designed exclusively for nonprofit board members and their CEOs to attend together.
2018-2019 Board Leadership Summit Keynote Facilitators
June Bradham, CFRE is a widely recognized business leader and fundraising expert. Under her guidance and with her hands-on approach, she and her team at Corporate DevelopMint (CDM) have led more than 200 successful fundraising campaigns ranging from $3 million to more than $100 Million.
Since founding CDM in 1987, June has served as the organization's visionary, rainmaker, staff leader, and workhorse. She's supervised more than a dozen senior-level consultants at a time, and also driven CDM's program of original research. CDM research includes a groundbreaking study of what drives fundraising success designed by an interdisciplinary team of PhD's, and a study of best practices in free healthcare clinics that was funded by the Duke Endowment.
June has also spearheaded product development for CDM, creating dozens of customized training programs for nonprofits. Her hands-on work with more than 250 boards has resulted in a unique format for solicitation training, as well as a unique process for aligning nonprofit staff and leadership with the communities they serve. As a consultant to one of the world's largest consulting companies, June has also developed and implemented training programs for fundraising consultants from more than 17 countries.
In addition, June has personally served on more than 25 nonprofit boards, including service on the executive committees of most of those boards. A sampling includes the Darla Moore School of Business; the Citadel School of Business; the SC Chamber of Commerce; the Governor's School for Science & Math; the Community Foundation of Coastal SC; the Spoleto Festival; and Porter-Gaud School.
June's articles appear in trade journals such as Advancing Philanthropy, Association for Healthcare Philanthropy, and Journal for the Advancement of Secondary Education. Her book, What Nonprofit Boards Want, was published in 2009 by John Wiley & Sons.
June has received many top awards in her field, including Fundraiser of the Year from the Association of Fundraising Professionals International's Lowcountry Chapter (2012); the first CEO of the Year in Charleston Regional Business Journal's Most Influential Businesswomen Awards (2009); and the Women of Achievement Award from the Alliance for Women in the category of Economic Autonomy (2008).
---
Tucker Branham, CFRE, M.A., ABD, Ed.D. is a leader in nonprofit leadership and philanthropy. Tucker began her career at Emory University in the central annual fund office working with all nine schools and units. Tucker then moved into consulting with Corporate DevelopMint, where she worked with national and international nonprofits on every facet of nonprofit development. Over the years, Tucker has become a specialist in facilitating development assessments, strategic planning, board restructuring, foundation implementation, executive and leadership coaching, campaign planning management, and organizational culture. After six great years with Corporate DevelopMint, Tucker became the Executive Director of the Porter-Gaud Foundation. During this time, Tucker created a foundation, built a board, and launched a campaign. These five years fostered her knowledge and experience through practice and boots on the ground.
Tucker is a member of Charleston's 40 under 40 class of 2017, has a black belt in Tae Kwon Do, served on the alumni boards of The Asheville School and Warren Wilson College as well as the board for the Association of Fundraising Professionals, Lowcountry and Atlanta Chapters.
With a Bachelor's degree in English from Warren Wilson College in Asheville, NC, a portfolio in Advertising, Art Direction from the Portfolio Center in Atlanta, GA, a Masters in Philanthropy and Development from St. Mary's University of Minnesota, and soon, a Doctorate in Organizational Leadership from Northeastern University, Tucker is able to approach challenges with a fresh, creative eye and offer solutions that drive our clients' success.
---
The 2018-2019 Board Leadership Summits were Presented By:
---
We are grateful to our 2018-2019 Board Leadership Summit Sponsors